Press release
Consultation on fee changes launched
VOSA gathers views on proposals to change some testing and licensing fees.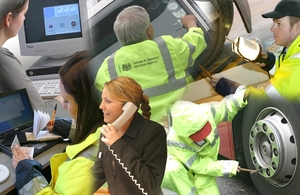 VOSA is launching a consultation on proposals to change some fees for annual testing operator licensing and associated services.
For the second year running, VOSA is not proposing any across-the-board fee increase and most of the proposals will be revenue neutral.
The changes affect fees for HGV and PSV testing, operator licensing and non-statutory checks and tests.
The main changes proposed in the consultation are:
no general rise in statutory fees for the second year running
reductions in fees which VOSA charges for tests non-VOSA test facilities balanced by increases fees at VOSA facilities to reflect the respective costs to the agency
reductions in fees for applications for standard PSV operator licences balanced by increases for applications for restricted licences to rebalance fees to reflect the cost of processing those applications
small (2% to 4.6%) increases in HGV and PSV operator licence fees to cover the cost of a national register of HGV and PSV operators and their transport managers to help level professional standards across the EU
fees for voluntary services, such as brake checks and non-statutory roadworthiness tests, to rise in line with general cost increases in addition to the effects of changes to test fees at VOSA facilities
VOSA Chief Executive Alastair Peoples said:
I'm pleased that VOSA will be able to avoid any general increase in fees for the second year running and am keen to hear the views of our customers on the rest of our proposals.
The consultation also seeks views on some elements of the role of Traffic Commissioners.
The full consultation can be found Fees for HGV and PSV testing and operator licensing for 2011 and is open from today (14 July 2011) till 28 July 2011.
Notes to editors
VOSA is responsible for:
processing applications for licences to operate lorries and buses and registering bus services
operating and administering testing schemes for all vehicles, including the supervision of the MOT testing scheme
enforcing the law on vehicles to ensure that they comply with legal standards and regulations
enforcing drivers' hours and licensing requirements
supporting Traffic Commissioners to help them make informed decisions on operator licensing, vocational drivers and bus registration requirements
providing training and advice for commercial operators
investigating vehicle accidents, defects and recalls
VOSA media enquiries
You should contact our press office if you have a media query or you're a journalist.
Published 14 July 2011