World news story
Consulate working for safety on and off the French slopes
The British Consul for Southern France and his team have been working for the safety of British Nationals on the Alpine slopes this season.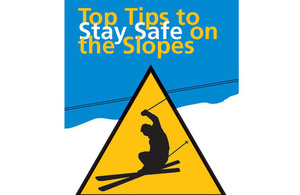 We've been working in partnership with the main tour operators working in the Alps" said Simon Taylor, Consul. "And we also work closely with the Gendarmerie Mountain Rescue Team and share good practice.
In the run up to Christmas and the start of the winter sports season, we've been talking about our top tips with hundreds of seasonal staff, the local police and resort managers.
This year we're focussing on getting across a specific message about the potentially dangerous effects of alcohol at high altitude in sub-zero temperatures. And our message is "Look after yourself and others – don't' let your friends wander off on their own.
We'll also be distributing flyers aimed at the British skiing community, detailing our top tips.
We hope to make as many people as possible aware of the dangers in the Alps so that their trip remains fun and trouble-free.
The British Ambassador to France Sir Peter Ricketts has also joined the campaign by video to remind people of some of our most important messages.
British Ambassador to France Sir Peter Ricketts - Video
Our top tips for a safe ski holiday
Take out insurance – and check what it covers. It might not cover off piste skiing unless you are with a qualified guide.
Have a medical check-up before you ski – one of the major causes of hospitalisation and death on the slopes is heart attacks.
Don't drink and ski. Alcohol can affect you more quickly at high altitudes and dangerously limits your awareness of risk and cold. Drinking and then skiing also risks invalidating your travel insurance.
Most skiing injuries are caused by collisions with other skiers – watch your speed and distance.
Don't attempt slopes you're not experienced or fit enough to tackle, even if you're encouraged or pressured to do so by friends.
If going off piste, carry a shovel, a probe and a transceiver in case of an avalanche. Also remember that you need proper training on how to use a transceiver.
If you are going out on a glacier, you must wear a harness. If you fall into a crevasse, this will help the rescue team get you out.
Make sure someone knows where you're going and tell them of any changes to your plans.
Only go off piste skiing or climbing with someone you have met previously and can trust. You need to know their capabilities, what you'll be doing and where you'll be going.
Many insurers insist you wear a helmet. Protect your head and your policy.
Further information
The current activity in the French Alps is part of the Foreign and Commonwealth Office's Know Before You Go campaign which encourages British nationals to prepare for their foreign travel so they can avoid preventable problems. Click here for a full holiday checklist.
In the last 2 seasons, British Consular staff in France assisted 19 British Nationals or their families after a death or a serious injury sustained during a winter sports trip.
If things go wrong during your trip to the Alps, dial 112 for the Emergency services. If you need consular assistance, call our consulate in Marseille on +33 4 91 15 72 10.
For ongoing information for British nationals in France, follow us on Twitter.
Published 27 November 2014