World news story
Consular Workshop in Warsaw
Workshop on Child Abduction and Child Custody issues with a particular focus on Parental Child Abduction took place in Warsaw.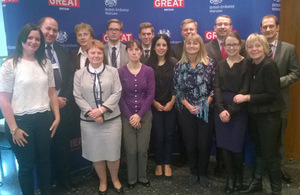 On 31 October 2014, the Consular Section of the British Embassy Warsaw organised a workshop combined with a specialised consular training on Child Abduction and Child Custody issues with a particular focus on Parental Child Abduction.
Several specialist advisors from the FCO Consular Directorate as well as an employee of a UK-based charity Reunite International Child Abduction Centre attended the workshop. The guest speakers at the event were police officers from the Polish National Police Headquarters, the Head of the International Law Division from the Ministry of Justice and the Head of Legal Team at ITAKA – Missing People (a Polish NGO).
Briefly, parental child abduction involves the removal or retention of a child by one parent, which is either violating the court order or is without the consent of the other parent (or person who has parental rights). In some jurisdictions, it s it a criminal offence for one parent to abduct a child (the UK), but in others parental child abductions are not considered a criminal offence (Poland).
Poland is the country which has been recently hit hard with an increase in the number of these difficult, sensitive and complex cases. Polish nationals seem to enjoy the advantages of the freedom of movement and more often decide to relocate and start a family abroad.
As concluded, we may unfortunately expect even a greater increase in the number of parental child abductions as with time more and more Polish nationals living in the UK who are married to British nationals may decide to go back to Poland.
The Foreign and Commonwealth Office (FCO) has launched a media campaign to highlight the issue of parental child abduction which continues to be an increasing problem in recent years. As part of the campaign the FCO created a film entitled 'Caught in the middle' aimed at reaching a large audience and informing viewers about parental child abductions and their consequences for the child and the whole family.
Published 14 November 2014