World news story
Consular outreach with local authorities and the British community in Cuenca
The Consular Section of the British Embassy visited Cuenca to meet with local authorities and the British community.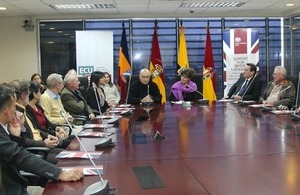 Consular staff met with key local authorities in the areas of tourism, prevention, security and social assistance, and gave a presentation explaining the Embassy's consular assistance policy, preventative campaign and crisis response strategy.
The meeting was held at Cuenca's Public Security Council offices and generated a successful dialogue between the Embassy and local authorities on how best to work together to assist British nationals in Cuenca, both tourists and residents.
In the evening the Consular Section held an informative meeting event with the resident British community in Cuenca, at the ECU 911 emergency response service's facilities.
The event provided an opportunity for the British community to meet the new British Ambassador to Ecuador who attended the event alongside consular staff, and learn more about the Embassy's consular assistance and crisis response policies, in particular the new consular strategy 2016-2020.
Get the latest news in our Twitter or Facebook accounts.
Published 13 April 2017