Consular outreach in Santa Elena
As part of our country-wide consular outreach programme, the DHM Tina Hamilton and Pro Consul Anneka Dann visited the province of Santa Elena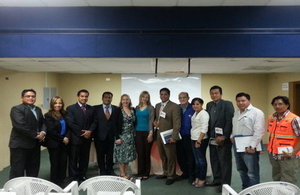 As part of our country-wide consular outreach programme, the Consul Tina Hamilton and Pro Consul Anneka Dann visited the province of Santa Elena to make personal contact with the local authorities and tourism officials in the area. Attendance was excellent with representatives from the Police, Ministry of Tourism, Ministry of Risk Assessment, Tourist Security and Ministry of Health, among others.
We gave a brief presentation about the work of the Consular section, focusing on our assistance policies, prevention and responsible tourism campaign, and crisis plan. The information was well received and followed by a lively question and answer session, from which came a number of positive ideas and contributions among the audience.
It was very encouraging to hear that the local authorities are implementing a range of tourism security initiatives, such as surprise spot-checks on safety equipment and life jackets, and a free English language programme for life guards.
Published 18 September 2013