World news story
Consular outreach event with NGOs
The Consular Section hosted an informative event with NGOs who work regularly with British nationals.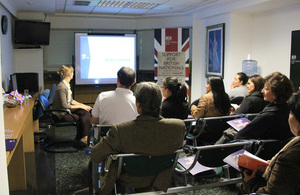 The Consular Section recently hosted an outreach event for NGOs in the new consular customer waiting area at the Embassy. The purpose of the event was to invite NGOs who organise voluntary programmes, adventure expeditions, Spanish classes and tour packs in Ecuador for British visitors, to explain about our consular assistance policy and travel safety preventative campaign, as well as to understand more about their work and the profile of their British clients (volunteers and gap students).
Representatives from eight NGOs attended, some of which represent to UK NGOs in Ecuador. These NGOs offer a range of different programmes, such as British young people to live with host Ecuadorean families while carrying out voluntary work; short visits for fundraising purposes; voluntary work combined with Spanish language classes; adventure expeditions in various areas of Ecuador, including hiking and mountaineering.
Following everybody´s introduction and a brief explanation on their programme´s role and activities, the consular team gave a presentation explaining what we can and cannot do to help British nationals in Ecuador; information on our travel advice and crisis response plan; an outline about our communication strategy which involves outreach events and social networks, and finally an overview of our preventative campaign for personal safety & responsible tourism -which included the projection of 2 recently launched preventative videos on transport safety and drug smuggling. This was then followed by a short reception with light refreshments, in which the consular team could learn more about the NGOs and their preparedness for incidents involving British nationals.
It was a highly successful event and of great use to the consular team for strengthening their links with NGOs who work with British nationals, including a couple of new NGOs not previously in contact with. The overall feedback of the event was very positive, especially related to the useful preventative communication materials provided by the Embassy, such as the "Enjoy Ecuador - consular assistance & travel safety pocket guide" and the preventative videos on travel safety and drug smuggling, which the NGOs will be able to share with their British clients prior their arrival to Ecuador and with their partners back in the UK, aiming to minimise risks and incidents during their stay in Ecuador. Finally, an effective emergency response coordination with the Embassy is expected.
Published 28 March 2014