World news story
Consular outreach event in Cuenca with Canadian Embassy
As part of our country-wide consular outreach programme, the consular team visited Cuenca for a joint event with the Canadian Embassy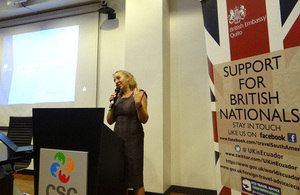 Consul Tina Hamilton, Vice Consul Veronica Ruiz and Pro Consul Anneka Dann visited Cuenca, along with the Canadian consular team, to make personal contact with the local authorities and British and Canadian Communities.
In the morning, local authorities were invited to presentations from both the British and Canadian consular teams explaining our assistance policies for citizens in Ecuador, travel safety preventative campaign and crisis preparedness, and the importance of coordinating actions in the event of an emergency. Attendance was excellent with representatives from the Police, Army, Red Cross, and Ministries of Foreign Affairs, Tourism, Health, Interior and Risk Assessment, among others. The Cuenca Citizenship Security Council and the Ministry of Foreign Affairs also arranged for a guided visit to ECU-911 emergency call & response centre, which complemented this outreach visit to the district of Azuay.
In the afternoon, the British consular team invited members of the British community to a talk, updating them on our consular strategy, digital outreach, and procedures such as the new online passport application system. They were then joined by members of the Canadian Community to hear presentations from relevant local authorities. This included a talk from the National Transit Agency on applying for a local driving license, the Customs Office on customs regulations for household items, and the Ministry of Foreign Affairs on Ecuadorean visa requirements.
The event was a great success and part of our ongoing work to keep in close contact with both our resident communities in Ecuador and key local authorities in charge of travel safety, health assistance and crisis preparedness.
Published 11 March 2014