World news story
Consul raises Brit issues with new President for the Canary Islands
Charmaine Arbouin also urges residents to register with local authorities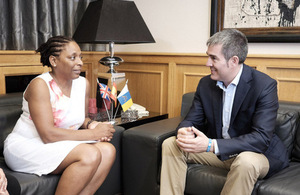 Support for British residents and sustainable tourism topped the agenda during a recent meeting between the British Consul for the Canary Islands, Charmaine Arbouin, and newly-elected President of the Canarian Autonomous Government, Fernando Clavijo Batlle.
President Clavijo heard how the local British community, consulate, local authorities and charities work together to provide support for those in need.
The President also welcomed the consulate's efforts to promote safety amongst tourists and residents, including initiatives to reduce the number of preventable drownings and lost passports.
For her part, Consul Charmaine Arbouin raised concerns about the impact of proposed tourism protection measures on British tourist interests on the islands.
She said:
It is reassuring to know that Sr. Clavijo is already aware of many of the issues facing British nationals in the Canaries, including those around holiday property rentals.
I am encouraged by his commitment to seek a balanced and sustainable approach to tourism in the Canaries, with improvements both to infrastructure and to the quality of accommodation.
Ms Arbouin added:
The President was particularly interested in our collaboration with local authorities and charities, and I would encourage British residents who have yet to register on the padrón to go to their local town hall to do so, so that they don't miss out on vital social services they may need in future.