World news story
Consul in Italy warns Brits not to let their passport expire
British Embassy in Rome is urging Brits to take care of their passports and renew them in good time.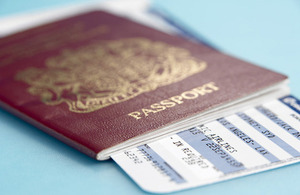 In May 2013 107 emergency passports were issued to British nationals in Italy. This included 68 as a result of theft, principally bag theft, car break-ins, burglary and pick-pocketing. 39 emergency passports were issued for other reasons, including expiry amongst others.
British nationals resident in Italy should check when their passports are due to expire and make a diary note or an outlook calendar memo to renew them up to nine months before they expire, says David Broomfield, British Consul, Rome.
Living within Europe's borderless Schengen Area it can be easy to think that you don't need your passport or to forget to renew it. However, if you need to travel back to the UK in an emergency, getting an emergency travel document is both costly - currently €116 - and time-consuming, which can further add to what may already be a stressful situation. In addition you will still need to renew your full passport when you get back.
Many people think that by renewing a passport before it expires they will "lose out" on validity they have paid for but in fact any remaining validity on your existing passport (up to a total of nine months) will be added to your new one.
Applying for a new passport is simple: download the application form and guidance notes from www.gov.uk/overseas-passports, complete them in the comfort of your home and send them off with your photographs. A new passport generally takes a minimum of four weeks from when the application is received.
More information on how to renew your passport.
Published 6 August 2013