World news story
Consul General Nick McInnes speaks at Commonwealth Day event
British Consul General Nick McInnes addressed a crowd of more than 300 people from the corporate and diplomatic community.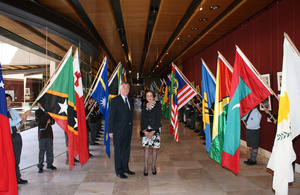 The lunch was hosted by the Commonwealth Day Council of New South Wales at Parliament House in Sydney on 10 March, in the presence of the Governor of NSW, Her Excellency Professor Marie Bashir.
Her Excellency read out a message from Her Majesty The Queen introducing this year's Commonwealth theme of Opportunity through Enterprise as, "a celebration of our achievements, particularly those that may have seemed challenging, daunting or even impossible, which have helped to build strength, resilience and pride in our young people, in our communities and in our nations", before adding her own reflections on the day and the this year's theme.
In his speech Mr McInnes discussed how the UK and other Commonwealth nations had been working to ensure the Commonwealth remained relevant and important to its constituent countries and citizens. This includes initiatives such as the Commonwealth Charter, which commits its leaders to upholding the common values held dear by the Commonwealth such as democracy and human rights and promoting tolerance and respect and caring for the environment.
This focus on core values, Mr McInnes said:
creates the conditions in which businesses can prosper, by giving them confidence to invest and trade. This in turn creates more jobs and drives greater prosperity.
The 54 nations of the Commonwealth are home to around two thirds of the world's population and Intra-Commonwealth trade is worth over $3 trillion annually. The fact that the Commonwealth includes some of the world's fastest growing nations like India, South Africa, Malaysia, Nigeria and Singapore means it's likely the Commonwealth's share of global trade will continue to rise.
British Consul-General in Melbourne, Gareth Hoar, gave a speech along similar lines to the Council of British and Commonwealth Societies for Commonwealth Day and other events and celebrations have been happening around the world to mark this global day.
Published 27 March 2013