World news story
Consul General hosts 'Palestine Strings' in Jerusalem
Consulate General hosted a Ramadan iftar for 'Palestine Strings' ahead of their upcoming trip to the UK.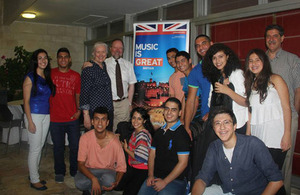 British Consul General Sir Vincent Fean hosted a Ramadan iftar at his residence for a group of young Palestinian musicians called 'Palestine Strings', alongside with the Consulate's team. The group, run by Edward Said National Conservatory of Music in Ramallah, will join the famous British violinist/ violist Nigel Kennedy in his performance of Vivaldi's Four Seasons at the annual summer BBC Proms in London.
Kennedy came across the talented youngsters in early 2012, and that summer they teamed up for an outdoor concert at the Yabous Festival in East Jerusalem performing the 'Summer' concerto from the Four Seasons along with an extended set of Kennedy's own compositions. During the concert in East Jerusalem, Nigel performed short improvisations with some of the students in the orchestra. The confident and inspired musical delivery of the Vivaldi and the students' instinctive musicality, was something that struck a chord with Kennedy's own musical identity, and a year later he managed to organize for the group to join him at the BBC Proms, playing The complete set of concertos at London's Royal Albert Hall.
During the reception, the young members of the group expressed their happiness and excitement for visiting the UK. They also talked about their musical experience with violinist Nigel Kennedy.
After listening to a short performance by Palestine Strings at the residence, Sir Vincent Fean said:
I am very delighted to have met these young talented Palestinians, who are full of life, energy, and hope. I send them my warmest congratulations for their achievement and I wish them best of luck with their upcoming visit to the UK, to participate in one of the largest classical music festivals in London which will be the start of something greater. I am certain that they will feel welcomed in London and people will enjoy their great performance. I personally look forward to attending one of their rehearsals there next month. Thanks again for Palestine Strings for playing a part in strengthening ties between the Palestinian and British people. I'd like also to extend my thanks to Nigel Kennedy, Britain's famous musician, for his commitment to bring this talented group of Palestinian youth into the spotlight, and for allowing them the opportunity to present their talent to the world.
Published 26 July 2013