World news story
Consul General condemns settler violence
Consul General Alistair McPhail condemns settler violence in East Jerusalem.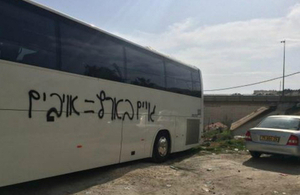 Commenting on yesterday's price tag attack by Israeli settlers in East Jerusalem, British Consul General Dr. Alistair McPhail said:
I condemn the price tag attack by Israeli settlers against 36 Palestinian vehicles yesterday morning in the East Jerusalem neighbourhood of Beit Hanina. The racist graffiti and acts of vandalism are unacceptable. These attacks come at a critical time in the peace process and the focus must be on the steps needed for peace. We must not allow violence to succeed.
Published 25 March 2014