News story
Construction equipment showcase digs in at BIS
Held in association with the Construction Equipment Association, 'Constructing the Future' is celebrating the breadth of UK construction equipment…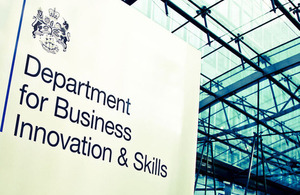 Held in association with the Construction Equipment Association, 'Constructing the Future' is celebrating the breadth of UK construction equipment manufacturing in areas such as engineering, innovation and low carbon solutions.
Exhibits include an Ecolite mobile lighting tower from T.C.P boasting the lowest possible running costs and carbon footprint, and a leading Terex dumper truck.
Business Minister Mark Prisk will tour the showcase this morning, meet with business leaders and see for himself some of the advanced construction equipment technology manufactured in the UK - standing testament to why this country remains one of the world's leading manufacturing nations.
The Minister said:
"The construction equipment industry is one of the UK's most dynamic sectors, and contributes £8.5 billion to our economy each year. Most people don't realise that the UK is the second largest net exporter of construction equipment in the world. Over 75 per cent of products manufactured in the UK are exported to 150 countries world-wide. That is an impressive figure.
"This showcase is just one of the steps this Government is taking to demonstrate just how innovative and world-leading our manufacturing base is here in the UK, and change perceptions that as a country we don't make anything anymore.
"We've launched the Make it in Great Britain campaign which is hunting for fresh pre-market ideas and concepts, culminating in an exhibition during the Olympic and Paralympic Games this summer. So too, businesses up and down the country will be opening their factories to visitors next month as part of our See Inside Manufacturing campaign.
"Image is important, but we also need to ensure that businesses get the support they need to grow. This is why we have rolled out initiatives such as the £125 million Advanced Manufacturing Supply Chain Initiative and recently re-launched the Manufacturing Advisory Service."
Rob Oliver, Chief Executive of the CEA, said:**
**
"We were delighted when BIS approached the CEA to stage the first ever construction equipment industry showcase at its headquarters.
"There is a growing awareness that Britain's construction equipment sector is a major force in manufacturing and worth billions to the UK economy; this showcase is the perfect platform to shout about just how 'great' Britain is.
"The 'Constructing the Future' showcase is also all about encouraging new blood into the industry. Engineers, skilled operators - there are huge opportunities in the UK construction equipment sector which currently employs more than 55,000 people."
'Constructing the Future' features exhibits from leading construction equipment names including JCB, Cat/Perkins, Nylacast, Taylor Construction Plant (T.C.P), Terex and Komatsu.
The showcase will be on display at BIS until Friday, 25 May.
**
Notes to editors:
**CEA
**
1. The Construction Equipment Association is the trade association that represents the UK construction equipment sector - and is recognised by HM Government as the voice of our industry. It is represented in Brussels, as active members of the Committee for European Construction Equipment (CECE), and its influence is felt worldwide through our technical and international trade work and contacts with counterpart organisations.
mages from the showcase will be available today on BIS' Flickr site.

BIS's online newsroom contains the latest press notices, speeches, as well as video and images for download. It also features an up to date list of BIS press office contacts. See [http://www.bis.gov.uk/newsroom](http://www.bis.gov.uk/newsroom) for more information.
Notes to Editors
Contact Information
Name BIS Press Office Job Title
Division Department for Business, Innovation & Skills Phone
Fax
Mobile
Email bispress.releases@bis.gsi.gov.uk
Name Andy Aston Job Title
Division Department for Business, Innovation & Skills Phone 0207 215 6963 Fax
Mobile
Published 16 May 2012