Press release
Construction begins on Faversham flood alleviation scheme
The Environment Agency begins work today on the Front Brents flood alleviation scheme at Faversham.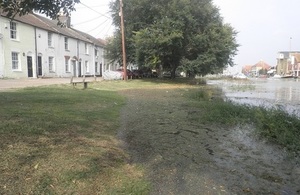 Following flooding to properties in the Front Brents area of Faversham during unusually high tides of December 2013, the Environment Agency has been working in partnership with residents, Swale Borough Council, Faversham Town Council and Kent County Council to design a scheme which significantly reduces flood risk to those properties affected by flooding.
The works will consist of a clay embankment between 600mm and 800mm high. The embankment will be landscaped and will include openings to allow continued public access to the green and the creek itself. These openings will be sealed by timber flood barriers when required. The construction work is expected to last for 2 months.
Mark Douch, Environment Manager for the Environment Agency, said:
When the works are complete, over 30 residences and businesses will benefit from protection against tidal flooding. By working in partnership with local residents and local authorities, we have developed a cost effective scheme which is sympathetic to the local environment. On average, for every £1 invested in protecting communities, £8 is saved in damage repair.

It is our priority to do everything we can to protect people from flooding. This year the Environment Agency is on track to better protect 44,000 properties in England through its continued programme of investment in flood defence schemes. We are spending more than £2.3 billion to build flood schemes around the country, which will better protect 300,000 homes by 2021.
Published 26 September 2016