Connecting World cities through football
British Council and Premier League competition winner meets Sports Minister.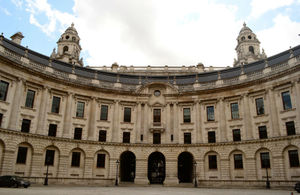 Sport and Olympics Minister Hugh Robertson met the winner of the Premier Connections competition this week before the teenager was taken on a tour of the Chelsea training ground to meet his football heroes.
Caio Ribeiro, a 16 year-old from the city of Ouro Fino in Brazil won the competition organised by the British Council and the Premier League through their Premier Skills programme.
The competition gave participants the opportunity to apply their English language skills in a creative way by creating a video showing connections between their home town or city and the town or city where the Premier League club they follow is based, with the fantastic prize of getting to see their favourite players in the flesh.
Watch Caio's winning entry:
Global language
"Football and English are two of the truly global languages of our time, and the incredible response we received to this competition shows how popular both the Premier League and learning English are to millions of people around the world" said Michael Houten, Premier Skills English language materials development manager. "Through his winning film Caio amply demonstrates this passion and appetite. Now he will deservedly get to experience the thrill of watching his team Chelsea whilst of course having a chance to brush up on his English language skills!" 
Speaking after meeting Caio, Hugh Robertson said; "The Premier League has a big global appeal so it's no surprise that this competition produced entries from all over the world, with Caio being a particularly appropriate winner given that Brazil will host the next World Cup.
"Premier Skills uses the power of football to help improve young people's lives overseas. Not only does it develop their leadership skills, by training them to be community coaches, but it improves their English language skills too. I hope Caio enjoys the rest of his trip to the UK, and meeting his Chelsea heroes and sees Chelsea win on Saturday."
Further information
Published 8 February 2011