Connecting across boundaries: Foreign Office takes part in multilingual blogging day
Minister for Europe, David Lidington, and other Foreign and Commonwealth Office bloggers post in French, Portuguese, Tagalog, Spanish, Ukrainian, Vietnamese and Arabic as part of Multilingual blogging day.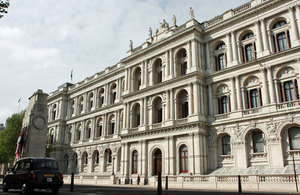 Multilingual blogging day, organised by the European Commission Representation in the United Kingdom is just one of a series of initiatives taking place to mark European day of languages on the 26 September 2010.
Use the map below to see the Foreign Office blogs as they're published
A number of the FCO's blogging diplomats already publish posts in a variety of languages, as well as English, and numerous websites across the FCO's network are available in local languages.
The Minister for Europe has published a video blog in French on the subject of increasing the number of British graduates working in the European Institutions, and, in his own blog to mark the event, translated into French for the occasion, the FCO's Head of Digital Diplomacy, Jimmy Leach said:
"We're trying to use the internet to communicate and connect across international boundaries - it would be pretty self-defeating if we only did that in English."
Keep track of Foreign Office contributions to Multilingual blogging day on:
Multilingual blogging day on Facebook
Search the news archive
Published 24 September 2010