News story
Connected Cities Mission: entrepreneurs join delegation to India
Innovate UK is helping entrepreneurs and small businesses to break into the multi-billion pound connected cities market in India.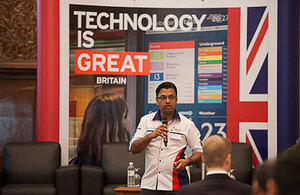 Entrepreneurs look to exploit smart cities markets
Entrepreneurs look to exploit Indian smart cities markets
Next week, 11 successful entrepreneurs will join the Connected Cities Entrepreneurs' Mission to India. This major UK-India initiative will take place between 6 - 12 November.
Delegates will attend the high profile India-UK Tech Summit in New Delhi. They will visit other cities including Pune and Kochi. They'll also have the chance to pitch to potential customers, partners and investors.
Ruth McKernan, Innovate UK Chief Executive, announced the companies taking part. She said:
It is vital that UK innovators look to engage globally in developing new partnerships and market opportunities. The size of the opportunity from the Indian smart cities market is immense with £24 billion investment expected across 100 cities over the next five to seven years.

UK small businesses are very well placed to take advantage of this market, and this is why we are running our next entrepreneurs' mission to India and the India-UK Tech Summit.
Companies taking part in the trade mission
These are the companies and their innovations:
About the Connected Cities Mission
The mission is a joint initiative between Innovate UK, the Department for International Trade (DIT), Enterprise Europe Network, and the Future Cities Catapult. It will form part of a series of UK-India missions organised by DIT to tie in with the India-UK Tech Summit.
Peter Madden, CEO at Future Cities Catapult commented:
At Future Cities Catapult we support high-growth businesses to innovate city-wide solutions. By supporting UK entrepreneurs to participate in Indian trade missions, we're increasing the export potential of these UK SMEs and at the same time helping Indian cities tackle the challenges of a rapid urbanisation.
See what companies did on the Connected Cities Mission to South East Asia in March 2016
Connected cities mission 2016 - UK businesses look to expand to South East Asia
Published 6 November 2016