Connected cities mission: apply to join trade delegation to India
Businesses can join a November trade visit to India and explore its multi-billion pound smart cities market.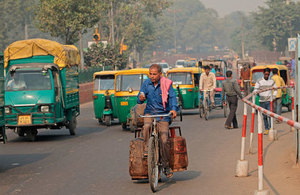 The Department for International Trade, Innovate UK and the UK Defence and Security Organisation are seeking businesses with expertise in fields that could allow them to take advantage of the growing smart cities market in India.
Successful businesses will have the opportunity to participate in the India-UK Tech Summit in New Delhi, take part in market briefings, visit other cities including Pune and Kochi, and pitch to potential customers, partners and investors.
The November trade mission is likely to offer opportunities in:
waste management
the circular economy
water and waster water management
hygiene
greater access to open public spaces and pedestrian friendly infrastructure
intelligent transport
This latest mission follows a successful Connected Cities Mission to South East Asia in March 2016, when 10 businesses were able to showcase their expertise and make connections that are already generating value.
March 2016 Connected Cities Mission to Asia
Connected Cities Mission to Asia
Indian cities expect to invest £24 billion
UK companies are at the forefront of innovation in smart cities technologies.
Between now and 2050, some 600 million people are expected to move into Indian cities. The Indian government and state authorities are investing £100 million to help cities develop smart infrastructure and attract private investment.
They aim to create 100 smart cities over the next 5-to-7 years. The first 20 cities are planning capital projects worth £4.8 billion, and investment of over £24 billion is expected over the next 5-to-7 years.
Mission information
the cost of taking part in the India-UK Tech Summit and the mission is £250 plus VAT
the cost does not include flights and accommodation
the mission takes place between November 7 and 12
businesses have an opportunity to exhibit at the India-UK Tech Summit
Published 13 September 2016
Last updated 3 October 2016
+ show all updates
Updated link to register

Revised list of opportunities for business.

First published.