News story
Connected Cities Mission: a showcase of UK innovation talent
Entrepreneurs visit India to pitch their smart cities solutions to businesses, investors and government, thanks to support from Innovate UK.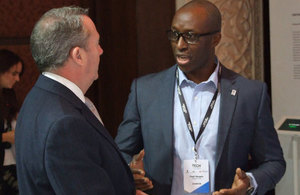 Last week, 11 UK entrepreneurs took part in the Connected Cities Mission to India. They were able to pitch their ideas to potential customers, partners and investors. Delegates visited Pune and Kochi and attended a high-profile India-UK Tech Summit in New Delhi.
The UK and Indian Prime Ministers Theresa May and Narendra Modi also attended the summit. This showcased the best of British businesses and science and technology experts. It also helped to build collaborations to further enhance the India-UK relationship.
The smart cities challenge for Pune
In Pune, the Connected Cities Mission companies met the city's Municipal Commission Kunal Kumar. Pune is the 8th most populous city in India with a population of around 4 million. This is forecast to rise to between 6 and 7 million in the next 10 years. The Commissioner set out his ambitions for making Pune one the most liveable cities in India.
The smart cities programme is important to the city. It has already developed links with the Future Cities Catapult. And Citi Logik, one of the mission companies, is already working with authorities there.
Stephen Leece, Managing Director of Citi Logik, said:
The trade mission is going to allow us to consolidate our recent proof of concept work with Pune and to bring these ideas to a wider audience. Without the support of the Department for International Trade and Innovate UK this would be more difficult and most importantly take much more time.

As a recent winner of a grant to develop a first of a kind business plan with Innovate UK, we can now showcase and test the concept with a much larger audience.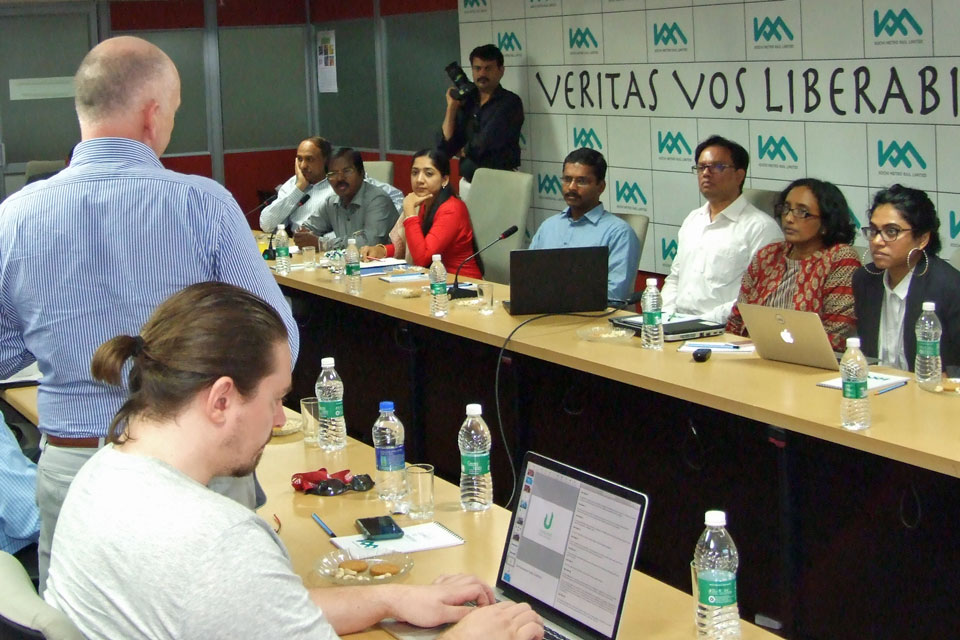 A successful showcase of UK talent
The mission companies each presented their business to the UK-India Smart Cities Business Engagement Forum. This generated lots of interest followed by one-to-one meetings.
Fredi Nonyelu, Chief Executive of Briteyellow, said:
Briteyellow is thrilled to be involved in this important trade visit. It is a great opportunity to put our technology in front of key people and find new partners for Smart City applications in one of the biggest markets in the world.
Nick Allott, CEO of Nquiringminds, added:
NquiringMinds is excited to be exploring Smart Cities collaboration opportunities with India. Our AI powered analytics and secure Internet of Things technology can help power India's visionary Smart City programme, replicating the success we have already established in the UK.
Ignius is a London-based start-up developing connected products and solutions. Company founder, Chakshu Saharan, commented:
Our product enables women in India to confidently access public spaces and facilities without the fear of sexual assault or other violence. Within the Smart Cities programmes we can work with partners to create the best environment to deliver on this promise. We're taking part in the mission to engage with government bodies, telecommunications providers and other smart city pioneers, as well as investors, who all understand the importance of citizen safety to achieving the smart city vision.
India's urbanisation challenge
Niraj Saraf, Connected Cities Mission lead for Innovate UK, said:
The global need for radical solutions to city challenges is becoming ever clearer. Over the last few years Innovate UK has made progress in developing UK SME capability in being able to offer, and show value from, the kinds of innovative cross-systems products and services that cities need to flourish in the future.

Perhaps the biggest urbanisation challenge in the world is the one facing India, which is currently only around 30% urbanised. If, as expected, the global urbanisation trend is followed in India, the country can expect that, in the next 15 years, some 300 million people will move into cities – almost the same as the entire population of the United States.
About the Connected Cities Entrepreneurs' Mission to India
The mission was a joint initiative between Innovate UK, the Department for International Trade (DIT), Enterprise Europe Network and the Future Cities Catapult. It formed part of a series of UK-India missions organised by DIT to tie in with the India-UK Tech Summit.
Published 17 November 2016