World news story
Congo Demokrasia programme to strengthen congolese civil society
Five Congolese civil society structures have benefited from subsidies for a total budget of about $250,000 under the Congo Demokrasia civic education programme.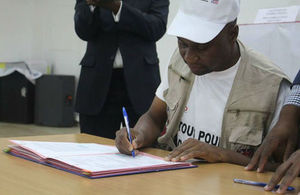 These structures will be responsible for capacity building of local civil society associations operating on civic and electoral education in their respective regions. They will also educate local communities so that people entitled to vote have a better understanding of their rights, duties and obligations in the electoral process.
The announcement was made in May during a ceremony organised at the headquarters of the Independent National Electoral Commission (CENI). The ceremony was attended by a representative of CENI's President, the USAID Country Director, a DFID Governance Advisor and the Head of the Congo Demokrasia programme.
The provinces and organisations involved are Haut Katanga and the Regional Council of the Non-Governmental Development Organisations (CRONGD), Central Kasaï and Actions for Integral and Sustainable Development (ADID), South Kivu and the Jérémie Group, and Kinshasa and the Civic Education Network of Congo (RECIC). The Episcopal Justice and Peace Commission network will also work with a focus on Kinshasa, Kalemie and Tanganyika.
William Evans, DFID Governance Advisor, urged recipients to exercise good management of funds received and to work tirelessly to ensure that target populations accomplish their civic duties in full awareness of their electoral rights. Diana Putman, USAID Country Director, said that the aim of Congo Demokrasia is to boost civil society and CENI's efforts to educate the Congolese population during the electoral period. She also emphasised the inclusive aspect of the programme through the populations that it will target. The programme aims to promote the participation of women, youth, indigenous people and vulnerable groups in the electoral process.
These grants are the first in a series to be provided by the Congo Demokrasia programme to Congolese civil society to strengthen their capacity. The grants will endow civil society organisations with the tools to hold peaceful elections and help consolidate democracy in the long term. Congo Demokrasia is a civic education programme jointly funded by USAID and the UK Department for International Development.