World news story
Conference to promote Pacific Alliance takes place in London
Over 150 representatives of British companies and businesses attended the conference organised by the British Foreign & Commonwealth Office and the Financial Times.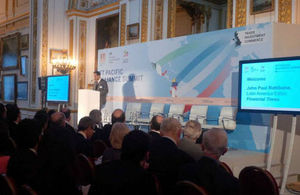 The consolidation and development of trade ties between Peru and the United Kingdom remains a priority in the work of the British Government. That is why the British Foreign Office, with the support of the prestigious business publication the Financial Times, organised a conference in London on 10 December to promote the opportunities offered by the Pacific Alliance, the trade and economic bloc formed by Chile, Colombia, Mexico and Peru.
During the event, the British Minister for Latin America, Hugo Swire, said that the UK considered the Alliance to be a very good model of free trade, freedom of movement and prosperity. He highlighted Peru's leadership in shaping it and the UK's desire to develop a deeper relationship with member countries. "I was delighted to learn that the United Kingdom was granted observer status in the Alliance. We received the news with joy and enthusiasm. "
Representatives of the member countries of the Alliance participated in the event, including Alfredo Moreno, Minister of Foreign Affairs of Chile, Vanessa Rubio, Assistant Secretary for Latin America and the Caribbean of Mexico, Gabriel Duque, Permanent Representative of Colombia to the World Trade Organization and Julio Muñoz-Deacon, Ambassador of Peru in the United Kingdom, participated in the event.
More information:
Published 10 December 2013