World news story
Conference in Madrid: Making National Health Systems Sustainable
This conference offers an opportunity to share experiences, discuss strategies and policies and hopefully catalyse new ideas on how to maintain a high level of service and care whilst reducing costs.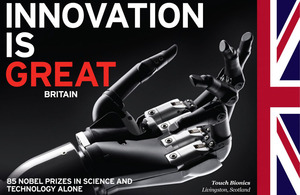 Both the Spanish and British healthcare systems face important challenges with more pressure than ever to make sure every euro invested delivers the very best results, and demographic forecasts which make it essential to get things right soon.
Sharing their perspectives at the conference we expect representatives from the UK Department of Health, the Spanish Ministry of Health, Social Services and Equality, and several regional governments of both countries.
There are three parts to the conference. The first will compare national frameworks: UK and Spain central government representatives will explain changes made to their respective NHS to face up to the economic crisis and improve the way healthcare is delivered. The second will focus on new technologies and whether they can help cut costs: two regional government representatives will share views and experiences. The third will explore service delivery models and, again, regional governments will contrast approaches to the management and running of health services.
Friday 7 June 2013, 09:00 am -15:00 pm
British Embassy, Madrid
Torre Espacio
Paseo de la Castellana 259D
28046 Madrid
Spain

For more information, please contact: Keiran Bowtell Senior UK Trade & Investment adviser Madrid +34 917 146 334 keiran.botwell@fco.gov.uk
Felisa Lázaro Senior UK Trade & Investment adiver Madrid +34 917 146 336 felisa.lazaro@fco.gov.uk
Published 27 May 2013