World news story
CONADIS and the British Embassy in Lima join efforts to promote inclusivity in sports in Peru
The National Council for the Integration of Persons with Disabilities (CONADIS), with support from the British Embassy in Lima, presented a Technical Handbook for Sports Associations for people with disabilities.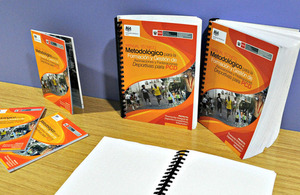 The presentation, held in early September, was carried out by CONADIS's president, Wilfredo Guzman Jara; the President of the Peruvian Institute of Sport, Francisco Boza and the British Ambassador James Dauris.
The Handbook, available in Braille, audio and print versions, serves as a tool to promote the formation of sports associations for people with disabilities, and focuses on the sports that are practiced in Peru but are yet to be formalised. This handbook will provide information for people with disabilities to help them to compete in sports such as basketball, soccer, volleyball and tennis.
The manual is part of the joint project "Promoting Adapted Competitive Sports" and is also part of the first anniversary celebrations of the London 2012 Olympic and Paralympic Games.
During the presentation, the British Ambassador James Dauris said:
We are proud of the Handbook, developed as part of this project, which we hope will become a tool that promotes sports for all. For us London 2012 was more than a sporting event, it presented a challenge to turn the event into a lasting legacy for future generations. And a very important part of this legacy has been to promote a change in society's attitude towards people with disabilities as well as equal opportunities for them in sports, culture and business.
Following the values promoted by London 2012, the British Embassy awarded funding to support CONADIS last year in their work to promote sports and build up sports associations and federations for disabled people in Peru. The activities included in the project, like the futsal regional championship for the blind and the inter-district wheelchair basketball championship, showed the great ability and enthusiasm of people with disabilities who play sports.
Video of the presentation:
La Inclusión llegó al deporte adatado de personas con discapacidad
Published 1 October 2013