Compulsory prisoner transfer agreement with Albania
A new agreement should see a greater number of Albanian prisoners being transferred from the UK to complete their sentences in Albania.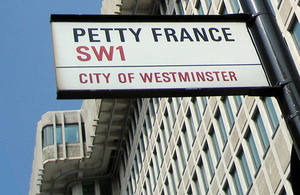 A new agreement which should see a greater number of Albanian prisoners being transferred from the UK to complete their sentences in Albania was signed by Prisons Minister Crispin Blunt and the Albanian Deputy Justice Minister, Brikena Kasmi.
The compulsory prisoner transfer agreement (CPTA) will see the compulsory transfer of Albanian national prisoners currently serving sentences in the United Kingdom, to prisons in Albania. It is the first bilateral CPTA the Ministry of Justice has signed with a country with a large number of foreign national offenders in UK prisons.
There are currently around 180 Albanian prisoners in UK prisons, of whom over 100 may be eligible for transfer under the CPTA.
The agreement also means that British citizens who are serving prison sentences in Albania may also be compulsorily transferred back to the UK.
The CPTA will need to be ratified by the Albanian Parliament during the next parliamentary term and laid before the UK Parliament. In the meantime, the National Offender Management Service is identifying Albanian prisoners who are eligible for transfer, in preparation for making referrals to the UK Border Agency.
Prisons Minister Crispin Blunt, said:
'We are already removing thousands of foreign criminals at the end of their sentence, or under transfer agreements to serve the rest of their sentence back home.
'We believe that, wherever possible, foreign national prisoners should serve their sentences in their own country. Not only will it save money for the UK, it will also mean that these prisoners will be closer to family and friends. This helps to support prisoners' social rehabilitation and reintegration into society. Transfers also help their home country to put in place any appropriate public protection measures on their release.
'I hope this compulsory prisoner transfer agreement will be the first of many arrangements to free up prison spaces and reduce the burden to taxpayers of foreign criminals who should rightly become the responsibility of their own country and not the UK.'
Notes to editors:
There are two existing CPTAs - with Libya and Rwanda, signed on 17 November 2008 and 11 February 2011 respectively.
The European Union PTA came into force in December 2011. It will enable the compulsory transfer of more foreign national prisoners from EU Member States within set timescales.
For further information please contact the Ministry of Justice press office on 020 3334 3536.
Published 31 July 2012