Complying with driving licence directive 2006/126/EC
DVLA has today (9 January 2015) launched a consultation to introduce a number of driver licensing technical changes.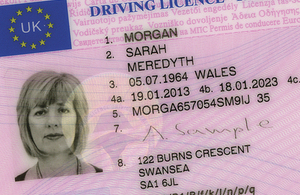 The third European Commission (EC) Driving Licence Directive 2006/126/EC introduced a number of new obligations on member states. Although the UK already complies with most of the EU rules, we want to change the law on the technical aspects of driver licensing in order that we fully comply with the directive legislation.
The consultation proposes the following change.
The Directive does not allow drivers to have more than one EU/EEA driving licence. In the UK it is not possible to apply for a licence if you already hold another licence. However, it's currently not an offence to hold more than one licence more generally.
To comply with the Directive, we need to change the law to stop drivers holding more than one EU/EEA driving licence. Any breach of this new provision will be an offence. The consultation will run for 5 weeks.
Published 9 January 2015