World news story
Competition to mark 60 years of UK-Laos diplomatic relations
British Embassy launches children's drawing competition for 60th anniversary of UK-Laos relations.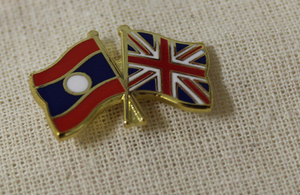 Ambassador Philip Malone today launched a children's drawing competition to create a picture logo for the 60th anniversary of diplomatic relations between the UK and Laos which falls this year.
The contest is open to all children living in Laos, under the age of 18 years old, who are invited to be creative and draw a picture using both the UK and Laos as inspiration to commemorate the countries' 60th diplomatic anniversary.
One winner and five runner-up entries will be selected and a prize-giving ceremony hosted at the British Residence at the end of March to unveil the winning design, which will be used as the anniversary logo throughout 2015.
The UK and Laos first established diplomatic relations on 5 September 1955. Diplomatic relations were reinvigorated in November 2012 with the official reopening of the British Embassy in Vientiane after a diplomatic absence of 27 years, and further strengthened by the reopening of the Embassy of the Lao PDR in London late last year.
Entries for the competition can be submitted to the British Embassy, Rue Nehru, Ban Phonexay, Saysettha District, Vientiane before 4.00pm on Monday 16 March 2015.
Published 16 February 2015