News story
Competition launched to support innovative intellectual property projects
The Fast Forward Competition encourages Higher Education Institutions (HEIs) and Public Sector Research Establishments (PSREs) to work together…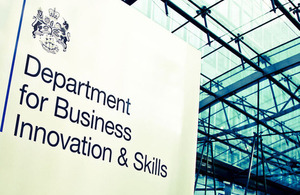 The Fast Forward Competition encourages Higher Education Institutions (HEIs) and Public Sector Research Establishments (PSREs) to work together with businesses and local communities to share research, innovation and intellectual property (IP). The aim is to invest in research and knowledge transfer projects that have the potential to create new companies or services which benefit both the UK economy and society.
A total prize fund of £760,000 has been allocated. Applicants can bid for funding ranging from £10,000 to £100,000 for proposals that will improve the way in which their intellectual property and knowledge exchange is managed.
Baroness Wilcox said:
"The development of intellectual property at UK institutions is vital to help them provide the starting blocks for new businesses to grow. By investing in innovative ideas at an early stage we will be giving institutions the best possible chance to support the future economic growth of the UK.
"The Fast Forward competition recognises that education establishments are where ground breaking ideas can be developed and turned into success stories."
One of the previous winners, The University of Nottingham, is working with the Design Council to develop a national programme helping universities use design to commercialise technology and other intellectual property. They jointly won the top Fast Forward grant of £100,000.
Dr George Rice, Manager of the University's Technology Demonstrator said:
"Sharing what we continue to discover about the use of design in technology transfer will benefit commercialisation of high quality research outputs not only at universities like Nottingham, but also other universities and colleges throughout the UK.
"A continually refreshed cohort of design-savvy technology transfer practitioners might then begin to uncover new and exciting opportunities that they had not previously considered."
The London College of Fashion also benefited from the competition and were awarded £80,000. The fashion industry is essential to the UK economy, generating £6.6 billion of GVA to the UK in 2009/10. Their 'Protecting the Fashion Economy' project will help to build a knowledge bank and tools for students to ensure that their IP is protected and prevent any potential economic loses.
Wendy Malem, Dean of Enterprise and International Development at the college said:
"The IPO award has enabled the London College of Fashion to undertake action research to uncover improvements and recommendations that will benefit the fashion economy, enhance student entrepreneurial skills and further develop the interface between the college and industry."
The closing date for competition proposals to be received is 30 December 2011.
---
Notes to editors
Case study, Nottingham University and Design Council - Fast Forward funding uses design to commercialise university research.
In the last Fast Forward Competition, the Intellectual Property Office (IPO) awarded The University of Nottingham and the Design Council their top grant of £100,000 to develop a national programme to help universities use design to commercialise technology and other intellectual property.
The grant is funding a 12-month programme to embed understanding of the value of design into knowledge transfer and commercialisation operations in universities across the country.
For example, university innovators are helping to develop 'design thinking' skills so they can apply the logical tools and techniques professional designers use - like different kinds of market research and ways of identifying a potential product's 'unique selling points' - to accelerate development and realise commercial value.
This also helps those translating inventions and innovations at university to avoid wasting time and effort going down 'blind alleys'.
This award follows a pilot which led to the formation of new spin-out companies and licence deals. Participants reported that design increases speed to market, reduces risk, and helps maximise IP value.
Nottingham and the Design Council are continuing to develop a new 'Design for Technology Transfer' (D4TT) toolkit and an associated masterclass training course.
Dr George Rice, Technology Demonstrator Manager at The University of Nottingham said: "Based on experiences gained with the previous pilot projects integrating design skills into technology transfer, we are now refining our approach to ensure that the tools, techniques and masterclasses we introduce are relevant for end-users (people doing the technology transfer work).
"We are drawing on best practice for the design of toolkits from across a range of sectors and building into the programme design sustainability mechanisms that will allow all trained cohorts of 'D4TT' to become members of a community of practice where knowledge and experience learned can be shared for the benefit of all."
The team plans to pilot the masterclass during the first quarter of 2012.
The Intellectual Property Office (IPO) is within the Department for Business, Innovation, and Skills (BIS) and is responsible for the national framework of Intellectual Property rights, comprising patents, designs, trade marks and copyright.

Its role is to help manage an IP system that encourages innovation and creativity, balances the needs of consumers and users, promotes strong and competitive markets and is the foundation of the knowledge-based economy.

It operates in a national and an international environment and its work is governed by national and international law, including various international treaties relating to Intellectual Property (IP) to which the United Kingdom is a party.

Details of the 2011 Fast Forward winners can be found at www.ipo.gov.uk/fastforward-winners.

For details on how to enter the competition visit the IPO website www.ipo.gov.uk. Winners will be announced in early 2012.

The 2012 Fast Forward Competition is funded and administered by the Intellectual Property Office. The entries will be judged by a panel of intellectual property experts with backgrounds in intellectual property and innovation, research and higher education.

For further information, please contact Dan Palmer on 0207 215 5303 or e-mail communications@ipo.gov.uk.
Notes to Editors
Contact Information
Name BIS Press Office Job Title
Division COI Phone
Fax
Mobile
Email NDS.BIS@coi.gsi.gov.uk
Name Dan Palmer Job Title
Division Department for Business, Innovation and Skills Phone 020 7215 5303 Fax
Mobile
Published 29 September 2011