News story
Competition drives down cost of Dounreay closure
The Nuclear Decommissioning Authority says significant acceleration in the clean-up and shutdown of Dounreay will bring real value to the taxpayer who funds the work.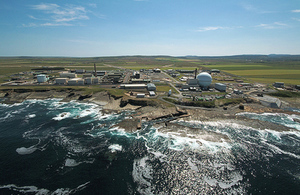 Its chief executive John Clarke, writing in the organisation's annual report published today, says the award of the site closure contract earlier this year was a milestone in the NDA's mission to clean up the UK's nuclear legacy and bring down the cost.
"The appointment of a new consortium, the Babcock Dounreay Partnership consisting of Babcock International Group, CH2MHill and URS, and which marks the culmination of a two-year process, will bring forward decommissioning timeframes and reduce costs by well over £1 billion," he states.
"The site is now scheduled to reach its interim state, when all major decommissioning work is completed, significantly earlier than originally envisaged, potentially achieving this important milestone in 2023. These reduced costs and dates exceed the criteria set for the competition by a significant degree and demonstrate the very real value that has been secured from this procurement exercise.
"We are delighted to be embarking on a partnership with BDP, who will use their global expertise to enhance innovation, improve clean-up and provide value for money to the taxpayer, and by embedding socio-economic commitments into the contract will provide reassurance that impacts from gradual site closure on the surrounding Caithness communities are being addressed responsibly.
"The introduction of global expertise from the private sector, as a means of driving forward innovation and performance, is a core strategic element in our mission."
Published 5 July 2012