Press release
Competition and Markets Authority announces further senior appointments
The Competition and Markets Authority (CMA) is pleased to announce 5 new appointments.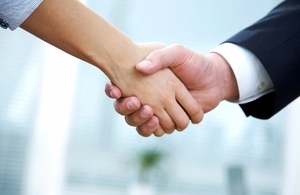 Sharon Horwitz and James Lambert will join as Directors of Sector Regulation, while Colin Garland and Alistair Thompson become directors within the Remedies, Business and Financial Analysis Group.
In addition, Rachel Merelie, currently the CMA's Group Director, Markets and Delivery, has been promoted to Senior Director, Delivery.
CMA Chief Executive Alex Chisholm, said,
I am delighted to welcome Sharon, James and Colin to the CMA and congratulate Rachel and Alistair on their new roles. All have a proven track record of achievement and leadership, and I am confident that they will contribute greatly to the success of the CMA in the coming months and years. Sharon and James' arrival will bolster our new team helping to drive greater use of competition powers in the regulated sectors.
Notes for editors
Media enquiries to be directed to Michael Rosen on 0203 738 6133 or michael.rosen@cma.gsi.gov.uk
Career details:

Colin Garland: Colin joins the CMA from Gatwick Airport where over the last 4 years he has worked as an economist assessing airport competition. Prior to this Colin worked for 8 years at Ofcom and Oftel on a wide range of projects, including market reviews, regulatory design and spectrum auctions. Colin began his career as an economist at Ofgem, working on issues such as retail market liberalisation and wholesale energy market regulation.
Sharon Horwitz: Sharon is a senior lawyer with extensive experience in competition law and sectoral regulation. She is currently working in the legal team at Ofcom where she has advised on a wide range of projects, notably in the spectrum and postal markets. She joined Ofcom in 2011 from Postcomm following a brief period at the Office of Fair Trading (OFT) in the Cartels and Criminal Enforcement Group. Prior to that Sharon was a counsel in the Competition/Antitrust group at Linklaters, having spent 14 years at the firm.
James Lambert: James is currently a senior economist in the competition team at Ashurst LLP where he advises clients on a range of competition and regulatory matters. Earlier in his career, he held economist positions in competition enforcement and mergers at the OFT and later worked as an economist at the Competition Commission.
Rachel Merelie: Rachel was appointed Group Director, Markets and Delivery at the CMA on 1 April 2014, and was previously the Senior Director, Inquiries at the Competition Commission (CC) from 2007, having joined the CC as an Inquiry Director in 2003. In her earlier career, Rachel managed business planning and strategy for Ernst & Young and the transition to Cap Gemini Ernst & Young, worked for Gemini Consulting as a management consultant and held a variety of roles in the electricity industry.
Alistair Thompson: Alistair has worked at the CMA (and before that the CC) for over 9 years, covering a wide range of merger and market investigations in a variety of industries. He previously worked in corporate finance at Lazard after training as an accountant with Price Waterhouse.

The CMA is the UK's primary competition and consumer authority. It is an independent non-ministerial government department with responsibility for carrying out investigations into mergers, markets and the regulated industries and enforcing competition and consumer law. From 1 April 2014 it took over the functions of the CC and the competition and certain consumer functions of the OFT, as amended by the Enterprise and Regulatory Reform Act 2013. For more information see the CMA homepage. For CMA updates follow us on Twitter @CMAgovuk, Flickr, and LinkedIn.
Published 26 June 2014