News story
Company director sentenced for theft and fraudulent trading
In May 2001 the European Commission made the advance payment of £170,000 to Implants International Ltd who were involved in an EU research project…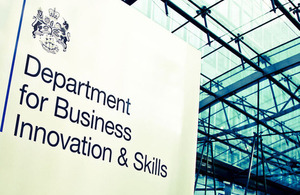 In May 2001 the European Commission made the advance payment of £170,000 to Implants International Ltd who were involved in an EU research project aimed at improving the lifespan of orthopaedic devices for disabled people. Implants International Ltd were supposed to distribute this funding to research institutions, however Mr. Emmanuel retained the money and used it for his own purposes before pulling out of the project in March 2002.
The European Commission began legal proceedings against Mr. Emmanuel for the recovery of the £170,000 and a default judgement was obtained before the European Court of Justice in February 2005. Implant International Ltd applied to set aside the judgement but this was dismissed by the Court in January 2006 with the company ordered to pay back the payment plus interest and costs.
BIS opened a criminal investigation against Mr. Emmanuel after being notified by the European Anti-Fraud Office (OLAF). Both OLAF and the Commission provided evidence to BIS which was used during the trial. Following an initial plea of not guilty, on day six of the trial, Mr. Emmanuel changed his plea to guilty on 25 October 2010.
Edward Davey, Minister for Employment Relations and the Insolvency Service said:
"Today's judgement is an excellent outcome and shows the benefits of the successful collaboration with our colleagues in Europe. It sends a warning that the Government will crack down on businesses that operate on the wrong side of the law."
---
Notes to editors:
---
Mr Emmanuel, 61, was sentenced today at Newcastle Crown Court.
Mr Emmanuel put Implants International Ltd into administration in July 2006, later forming a company in the same name and purchased the assets from the original company.
The European Commission referred the case BIS in 2008.
The case represents a second successful prosecution of a prosecution by BIS for fraud involving the misuse of EU funds in the past three months. A press notice for the for the case of Mr. Mulholland and BI Industries (Holdings) Ltd can be found here - [http://nds.coi.gov.uk/content/Detail.aspx?ReleaseID=415438&NewsAreaID=2](http://nds.coi.gov.uk/content/Detail.aspx?ReleaseID=415438&NewsAreaID=2)
In order to strengthen the means of fraud prevention, the Commission established OLAF in April 1999. It was given responsibility for conducting administrative anti-fraud investigations. Further information can be found here - [http://ec.europa.eu/dgs/olaf/legal/index_en.html](http://ec.europa.eu/dgs/olaf/legal/index_en.html)
BIS' online newsroom contains the latest press notices, speeches, as well as video and images for download. It also features an up to date list of BIS press office contacts. See http://www.bis.gov.uk/newsroom for more information.
Notes to Editors
Contact Information
Name BIS Press Office Job Title
Division COI Phone
Fax
Mobile
Email NDS.BIS@coi.gsi.gov.uk
Name Henry Tanner Job Title
Division Department for Business, Innovation and Skills Phone 020 7215 5947 Fax
Mobile
Published 3 December 2010