News story
Community rail plan for East Suffolk and the Tyne Valley
Passengers to have more say over local rail services.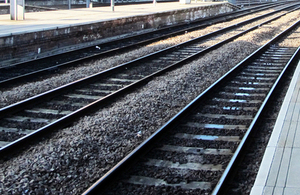 Community groups and passengers in East Suffolk and the Tyne Valley could have more say over the design and operation of their local rail services, under plans announced by Transport Minister Baroness Kramer today (25 July 2014).
The government is consulting on plans to designate the routes between Ipswich and Felixstowe, Ipswich and Lowestoft and the Tyne Valley Line between Newcastle, Hexham and Carlisle, as community rail services.
This would allow the community to design train services according to local needs, which in turn would help increase passenger numbers, improve connectivity to key destinations and ultimately boost the local economy.
Transport Minister Baroness Kramer said:
We are committed to putting passengers at the heart of the rail network.

By designating these services as community rail services, we will breathe new life into the local rail network and, by providing services that people want to use, will safeguard their future and help secure long-term growth in the local economies.
Community railways aim to provide better value for money, which in turn will support social and economic development in the area. Nineteen rail lines around the country have been designated as community lines since 2005, along with a further 17 services since 2005. These include the Wherry Lines services between Norwich, Yarmouth and Lowestoft, which were designated in February 2007, and the Cumbrian Coast Line between Carlisle and Barrow-in-Furness, designated in September 2009.
Although train companies continue to operate the services, they are supported by a Community Rail Partnership, made up of local councils, community groups and other volunteers, to decide how they should be run. Research has shown that for every £1 invested in a Community Rail Partnership, it can bring more than four times that in benefits.
The 6 week consultation runs until midnight on Friday, 5 September 2014.
Rail media enquiries
Press enquiries 020 7944 3021
Out of hours 020 7944 4292
Switchboard 0300 330 3000
Published 25 July 2014