Community payback supervisor scoops award
A community payback supervisor has scooped a justice award for his work with offenders.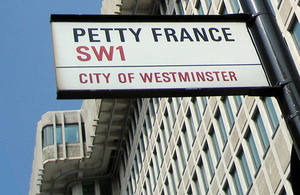 Richard Ward from Avon and Somerset Probation Trust supervises offenders working on projects such as graffiti removal and fly-tipping clearance, amounting to over 5,000 hours of work a year.
He won the award for commitment and enthusiasm towards Community Payback, and for leading projects such as creating a Mobile Welfare Trailer, which allows offenders to use hot and cold running water and a toilet whilst working around Bristol.
Richard says: 'From my point of view this is the bread and butter work that you should be doing, which is responding to the public.'
Not a 'soft' option
After 10 years working with offenders, Richard stresses that the projects he oversees are far from a 'soft' option: 'I don't think anyone would say handling buckets of people's filth, rubbish and rotten food for seven hours a day is easy work.
'Some of the places we clean up are absolutely disgusting.
'But seeing the difference they can make helps instill a sense of moral responsibility in the offenders.
'And the feedback from the public is fantastic - we're amassing quite a collection of thank you letters.'
Pride and responsibility
Richard'swork with offenders has featured on the BBC show Filthy Rotten Scoundrels, which looks at the dangers and anti-social aspects to fly-tipping in the UK.
His Mobile Welfare Trailer idea looks set to be extended. It has already been snapped up by North Somerset Council, and there is interest from other probation areas.
Sally Lewis, Chief Executive Avon and Somerset Probation Trust, says: 'Richard is an excellent role model and through his approach to the work undertaken, instils a sense of pride and social responsibility in offenders sentenced to deliver Community Payback.
'As a result of his hard work and creative approaches offenders make constructive restoration for their offences and Bristol is a cleaner, greener and safer place to live or visit.'
Published 17 February 2011