Community payback goes full time
Offenders will be made to do a full five-day week of hard work and job-seeking, under new proposals for community sentences.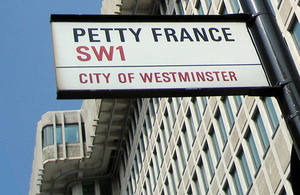 The work will include four days of hard manual labour, improving public areas by clearing up litter, cleaning graffiti and maintaining parks and other green spaces. The fifth day will be spent looking for full time employment.
Previously, community payback programmes could be spread out over 12 months with some offenders working for a minimum of just six hours per week.
The new, more intensive scheme, will also be imposed on offenders within seven days of sentencing, instead of the two weeks it currently takes following a court appearance.
Visiting a community payback clean up programme in Croydon, Crispin Blunt said: 'The public want to see offenders giving something back to their communities, but they are rightly not satisfied with seeing only a handful of hours a week dished out. Decent, law-abiding people can work a full five day week and so should offenders.'
He added: 'Regular, meaningful hard work is proven to help break the cycle of crime and encourage a law-abiding life. This means fewer criminals, fewer victims of crime and much reduced costs for the taxpayer - a wholly positive result for society.'
About 100,000 individuals are sentenced to community payback each year across England and Wales with over 8.8 million hours of unpaid work completed last year.
The public can nominate jobs for offenders via direct.gov.
Published 24 August 2011