News story
Community libraries continue to grow
Communities Minister Don Foster has given his backing to the growth of community libraries.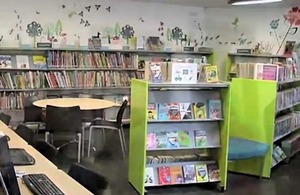 The minister was speaking at an event on Tuesday (5 March 2013) at the Whitechapel Idea Store, which showcased the different ways in which communities are getting involved in the running and management of local libraries. The event was held to promote a recent report by the Arts Council: Community Libraries - Learning from experience: guiding principles for local authorities
The research, from July last year, shows that there has been a rapid growth in communities getting involved in delivering library services, with over 1 in 10 libraries now having some kind of community involvement.
Speaking at the opening of the day-long event, Mr Foster said:
"Libraries' ability to modernise in this age of austerity hinges on their capacity to look beyond their bookshelves, to provide communities with spaces for education, learning, even socialising. One of the secrets of the Whitechapel's success is that it has got the community behind it, and it does all this and more.
"What's even better is, it's not alone: 1 in 3 authorities have at least 1 community-supported or managed library operating within their area and we are increasingly moving from libraries run on behalf of their communities to libraries run by their communities."
This report follows a recent announcement by the Department for Communities and Local Government of funding worth £600,000 for a new Enterprising Libraries project over the next 2 years. This will support libraries to help those taking their first steps in the commercial world, from the first spark of inspiration to successfully launching and developing a business.
The funding will focus on enabling libraries in 6 of our major cities to support local libraries in communities across the country to help increase their business and intellectual property capacity. Libraries in towns and cities will be able to partner with these 6 patent holding city libraries, bringing the capacity of the British Library to the local high street and extend support to groups which would otherwise not benefit from access to such powerful business resources. Funding will be allocated to local library services through competition, which will foster innovation and new partnerships.
For more information visit the community rights website
Published 6 March 2013