World news story
"Community Connect" meetings held in Birmingham and Edinburgh
Over 50 representatives of the Polish community attended meetings with the British Government in Birmingham and Edinburgh on 22-23 November 2017.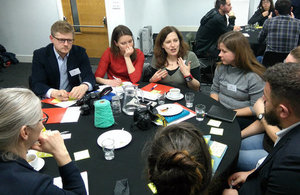 Community Connect – Poles in UK is a series of consultation meetings, bringing together the British Government and representatives of the Polish community in the UK to discuss issues that matter to Poles in the UK. Following the success of the first meeting in London on 5 October, two meetings took place in Birmingham and in Edinburgh.
Meetings opened with a presentation by British Ambassador to Poland, Jonathan Knott, who greeted participants with a reassurance of their status in the UK and updated them on the current status of negotiations with the European Union.
The meetings continued with a series of workshops, with the participation of representatives of the Department for Exiting the European Union (DexEU) and the Home Office. DexEU representatives reaffirmed that the status of EU nationals living in the UK remains unchanged until the UK leaves the EU and made clear the Government's commitment to protect the rights of EU nationals in the UK thereafter.
The Home Office led a workshop to discuss the new administrative procedures for EU citizens obtaining settled status, listening to what community representatives had to say about their proposed procedures.
Creative Connection rounded up the evenings with sessions dedicated to empowering community leaders. They worked with participants to give them the tools they would need to be sources of accurate information for their friends, families and communities, and helped to identify community leaders up and down the country who could act as an important network of support.
Published 30 November 2017