Press release
Communities warned to remain vigilant to new year flooding
River levels in parts of England remain high and more rain is expected tomorrow (3 January) in the south-west and north-east of the country.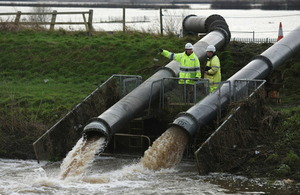 Overall the weather situation has improved but the Met Office has forecast further heavy rain on Sunday for parts of south-west England and later on Sunday into Monday across parts of north-east England. This wet weather brings a risk of flooding along parts of some rivers in Devon and Cornwall and in north-east England with the potential to disrupt travel in these areas.
York's Foss Barrier is now operational and flood waters in the city have receded but the River Ouse is set to remain high for several days. The River Severn will remain high in places, bringing a low risk of flooding in Shropshire, Telford and Wrekin, Worcestershire and Gloucestershire today and into next week. Temporary defences have been deployed at Shrewsbury and Bewdley.
As of 13:15 on 2 January there are 19 flood warnings and 76 flood alerts in place across England. Flood warnings are updated on the Environment Agency website every 15 minutes.
Environment Agency teams remain out in force pumping away flood water, repairing damaged defences, clearing river blockages, monitoring water levels and sending out flood warnings. Environment Agency staff from across the country have been sent to provide support in affected areas.
Over 40 additional Environment Agency pumps have been dispatched to the north of England to ensure that flood water is pumped away as fast as river levels will allow.
Craig Woolhouse, Director of Incident Management at the Environment Agency, said:
"We will continue to work with local authorities to support communities that are recovering from the devastating impacts of flooding and our thoughts are with everyone who has been affected by these terrible floods.
"In many parts of northern England the overall situation has improved but we are keeping a close watch on the potential impact of more wet weather tomorrow and Monday in the south-west and north-east of England.
"Our teams are working around the clock to repair flood defences, protect communities, and pump away flood water.
"Communities affected by flooding can find advice on the Environment Agency website, local authorities' websites and on social media using #floodaware."
Published 2 January 2016