Communities 'vital' to rehabilitation revolution
Community groups and voluntary sector are crucial to making the Government's 'rehabilitation revolution' a reality, says Lord McNally.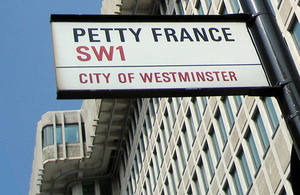 In a lecture to the St Albans Diocese group entitled 'Rehabilitation Revolution - pipe dream or penal policy for the 21st century?' the minister said: 'I believe that groups like yours have a vital role to play.
'I welcome the fact that you're able to meet to exchange views, and to try to discern imaginative solutions to problems that individuals and communities face every day.'
Lord McNally also outlined the reforms under way to better rehabilitate offenders, including payment by results in prisons, restorative justice, reparation and new drug and alcohol treatment centres for offenders.
He added: 'The rehabilitation revolution is not the soft option. It is the rational response to complex problems.
'It seeks to involve individuals and communities because if individuals and communities continue to feel ill-used by the criminal justice system, we will struggle to build the confidence necessary for justice to be done, and to be seen to be done and felt to be done.'
Read the full text of the speech (Word, 0.08mb)
Published 6 October 2011