News story
Communities to reap rewards by creating better deals together
Community buying involves groups of people combining their buying power to purchase goods or services together and get better deals from shops…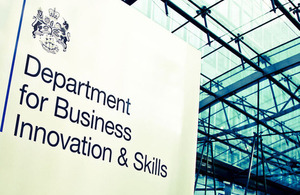 Community buying involves groups of people combining their buying power to purchase goods or services together and get better deals from shops and other suppliers. This can help businesses spread their overheads and in turn lowers costs for consumers.
The 'Buy Better Together Challenge' is aimed at raising awareness of the benefits of community buying and sharing best practice amongst communities. BIS and Co-operatives UK are each contributing £30k to the prize fund.
Support will be awarded to schemes that best demonstrate new and different models of group buying and which deliver real deals and social benefits for communities. Any group or organisation within the public, voluntary or business sectors is eligible to enter the competition.
Launching the Buy Better Together Challenge at a community buying conference in London, Consumer Minister Edward Davey said:
"I am really encouraged by the experiences of the existing groups we've heard from today, who have realised significant benefits from community buying. And not just in monetary terms, but also through the huge social payback these schemes deliver, such as opportunities to develop new skills, increase confidence and build closer communities.
"This is another strand of our consumer empowerment strategy; giving consumers the tools and guidance they need to take more informed choices and get better deals. I look forward to seeing the new and exciting ideas that will be put forward for the prize and the benefits that it will bring for the wider community."
Ed Mayo, Secretary General of Co-operatives UK, said:
"Co-operative buying, whether informal with friends, student food co-ops or of crowd-sourcing online, is a growing trend among consumers and a good way to make your money go further.
"Our research shows that a quarter of people already buy in bulk with others and this is set to rise by 20 per cent this year. With household budgets under such a squeeze, we are finding more interest than ever in co-operative models of business.
"We are delighted to work in partnership with BIS to launch the 'Buy Better Together Challenge' to recognise and inspire new models for buying together."
There are many examples of communities across the country - from food co-operatives to heating oil groups - which have experienced tangible benefits from running collective buying schemes.
For example the Social Innovation Lab for Kent (SILK) has worked with local residents in Maidstone to help them establish their own community buying group. The R Shop Bulk Buying Project sees savings of up to 30 per cent on individual items for its members as well as giving opportunities for volunteers to gain confidence and learn new skills.
The Guide for Community Buying Groups, also published today, is aimed at people who might be thinking of setting up schemes in their community. In particular it sets out:
the benefits of community buying groups;

practical advice on how to get started and organised;

business planning and dealing with finances;

marketing, legal and tax considerations;

other resources for sources of advice and information, including Business Link and www.mentorsme (the BIS supported mentoring scheme).
A dedicated website has also been set up for people to come together and discuss different ideas. The emergence of new technologies, such as web and mobile applications, has opened up new possibilities for consumers to find, recommend, compare and purchase products and services. It is envisaged that these digital platforms will have a large role to play in developing new approaches to community buying.
The Buy Better Together Challenge will be open for applications from January 2012. In May, shortlisted applicants will be asked to prepare a detailed business plan for the final stage, aided by a business mentor if they need it. The overall winner of the prize will be announced in October 2012.
Notes to editors
You can read the "The Guide for Community Buying Groups" and register your interest in the Better Buying Together Challenge at http://discuss.bis.gov.uk/buying/

The criteria for judging the prize will include:
The greatest potential in terms of saving money and getting better quality
Achieving long lasting impact or sustainability
Being able to engage a community successfully
Having social benefits, including helping disadvantaged consumers
Research from January 2011, carried out by YouGov on behalf of Co-operatives UK, shows that a quarter of people already buy in bulk with others and this is set to rise by 20% this year. The younger generation is leading the way with 31% of 18-24 year olds regularly buying in bulk with others in 2010 and 39% saying that they would buy more items in bulk with others to reduce costs in the future.

Co-operatives UK works to promote, develop and unite co-operative enterprises. It has a unique role as a trade association for co-operatives and its campaigns for co-operation, such as Co-operatives Fortnight, bring together all those with a passion and interest in co-operative action. Any organisation supportive of co-operation and mutuality can join and there are many opportunities online for individuals to connect to the latest co-operative news, innovations and campaigns. All members benefit from specialist services and the chance to network with other co-operatives. www.uk.coop
CASE STUDIES
There are a number of case studies that highlight the benefits of collective buying. Further detail of the schemes below can be found in the guide at http://discuss.bis.gov.uk/buying/:
R Shop Bulk Buying Project in Kent which has established its own community buying group which see savings of up to 30 per cent on individual items.
Up2Us pilots in Oxfordshire and Knowsley have developed local social networking sites for people who use social care. This enables them to find others with similar interests to buy activities and services together.
The Solar 100 Project buying group enabled local residents to purchase solar panels for their properties at a reduced price. Solar panels can generate household electricity or hot water, reducing energy bills for households and reducing carbon emissions.
Allen Valleys Oil Buying Co-operative is a local fuel oil buying group located in the south of Northumberland set up in 2011 to counter rocketing fuel prices.
Oxfordshire Rural Community Council Trading oil buying scheme is a consortium of 48 communities buying oil together. ORCC is now franchising the business model nationally.
BIS's online newsroom contains the latest press notices, speeches, as well as video and images for download. It also features an up to date list of BIS press office contacts. See http://www.bis.gov.uk/newsroom for more information.
Notes to Editors
Contact Information
Name BIS Press Office Job Title
Division COI Phone
Fax
Mobile
Email NDS.BIS@coi.gsi.gov.uk
Name Ed Smith Job Title
Division Department for Business, Innovation and Skills Phone 020 7215 5945 Fax
Mobile
Email ed.smith@bis.gsi.gov.uk
Published 7 December 2011