Press release
Communities consulted on radioactive waste disposal site
Government today launched a new proposed process for working with communities to agree a site for a Geological Disposal Facility (GDF).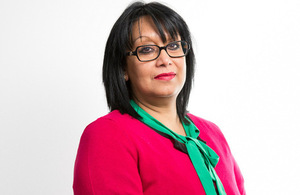 Government today launched a consultation on a revised proposed process for working with communities in order to agree a site for a Geological Disposal Facility (GDF). The multi-billion pound facility would be used to dispose of higher activity radioactive waste safely underground. This would provide a permanent solution for the disposal of existing legacy waste, and waste from new nuclear power stations.
Under the new approach, which Government is consulting on from today, communities would be provided with more information at an earlier stage in the process; a positive community-wide demonstration of support would be required before a community could host a GDF; and communities would have an on-going right to withdraw from the process.
The multi-billion pound infrastructure initiative could provide skilled employment for many thousands of people over its lifetime. Over 1,000 people would be employed on the site during its construction, with over 500 staff employed on average each year over the 100 year life of the facility.
This would have a profound and long-term positive economic impact on the area selected for the site, stimulating local businesses, supply-chains, and providing skilled jobs and training opportunities. Government will provide a generous community benefits package, potentially through a community fund, to ensure that the strategic national importance of the project is properly reflected at local level.
Baroness Verma said:
"Geological disposal is the right approach for the long-term, safe and secure management of the UK's higher activity radioactive waste.
"Hosting a site would bring lasting economic benefits with jobs, opportunities for businesses, and a generous benefits package to support the community.
"We want to make sure those benefits are well understood and supported by all those in the area surrounding any host community."
Bruce McKirdy, Managing Director of the Nuclear Decommissioning Authority's Radioactive Waste Management Directorate said:
"For more than 50 years, we have all benefited from the use of clean and secure nuclear energy, but we have not successfully addressed the long term disposal of higher activity radioactive waste. Geological disposal is an internationally recognised technically sound solution for higher activity waste to protect people and our environment.
"As the body responsible for the design, development and delivery of a geological disposal facility, we look forward to working with communities, stakeholders and the Government to take responsibility for our past and avoid passing the burden of legacy waste to future generations."
The process to select a site would vary according to the specific needs of the community, but could take around 15 years, with construction taking a further 15 years.
The Government continues to believe that geological disposal, preceded by safe and secure interim storage, is the right policy for the long-term management of higher activity radioactive waste.
Throughout the revised process being consulted on, communities would be represented by the most local competent authority, (the District Council or unitary authority in England, or relevant equivalent in Wales or Northern Ireland), who would have the right to withdraw the community from the siting process. Given the scale and national importance of the GDF, Government proposes bringing it within the Nationally Significant Infrastructure Project planning regime, as set out in the Planning Act 2008.
Government will consult on this new approach from 12 September to 5 December, and will then re-launch the national site selection process in 2014. As part of the consultation, a series of events will be run across the country with the public and interested parties.
Notes for Editors
The purpose of the consultation is to gather views on how aspects of the siting process for a Geological Disposal Facility (GDF) for higher activity radioactive waste could potentially be revised and improved.
The consultation covers England, Wales and Northern Ireland (and is being issued jointly with the Welsh Government and Northern Ireland Executive), but not Scotland, which has a different policy for the long-term management of radioactive waste. Read the consultation
This consultation follows on from a call for evidence from May-June 2013.
The Radioactive Waste Management Directorate (RWMD) of the Nuclear Decommissioning Authority is responsible for the design, development and implementation of a GDF as part of its remit to deliver the decommissioning and clean-up of the UK's civil nuclear legacy.
The GDF will generate an average of 560 jobs over its lifespan (100 years), with workforce numbers peaking at 1,000 during construction.
It is proposed that community benefits could start to be paid during the 'Focusing' phase, which would be overseen by a decision making Steering Group, consisting of the representative authority, with UK Government and RWMD as the developer. A consultative partnership of wider local interests would also be formed at this stage.
The Managing Radioactive Waste Safely White Paper (2008) sets out Government policy on managing radioactive waste.
The RWMD today published a report 'Overview of International Siting Processes'
Illustration of the proposed, revised siting process
This covers the process for community engagement. Requirements for environmental and sustainability appraisal, and regulatory consents, have been omitted, but are addressed elsewhere in this document. It is important to stress that the timescales indicated are purely illustrative: we envisage that, in practice, the phases will take as long as is necessary so that all involved are content.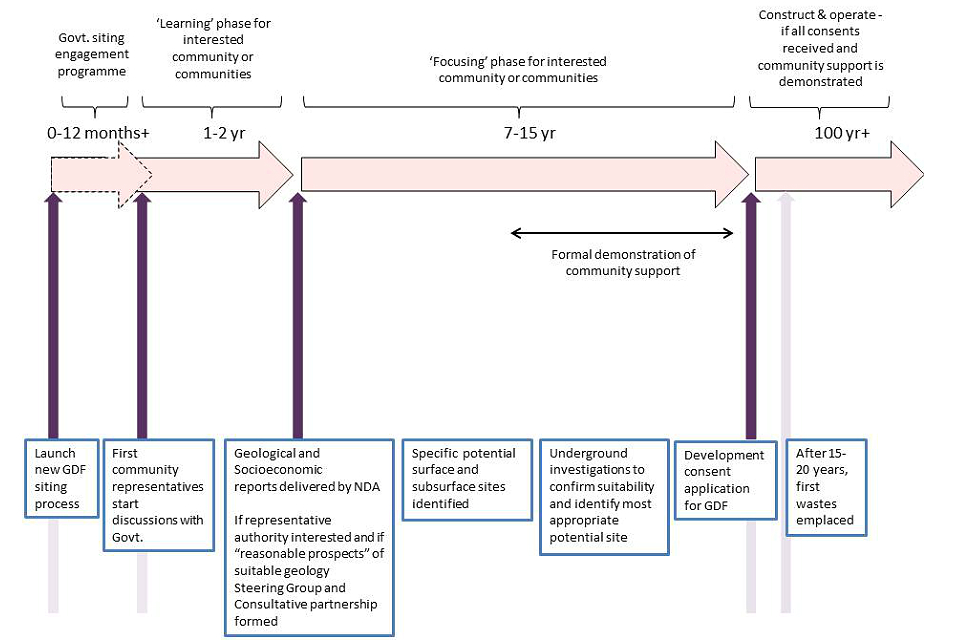 Published 12 September 2013