World news story
Commonwealth Youth Awards
Nominations for the Commonwealth Youth Awards and Commonwealth Youth Worker Awards are now open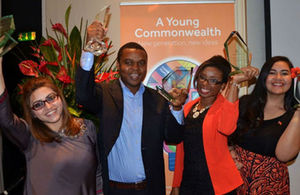 The Commonwealth Secretariat has several award schemes as part of the Commonwealth Youth Programme to promote youth development projects throughout the 53 Commonwealth countries. These annual awards are the Commonwealth Youth Awards for Excellence in Development Work (Commonwealth Youth Awards) and Commonwealth Youth Worker Awards.
Nominations for both of these awards are now open, so please share with your networks or nominate someone who you know is making a significant contribution in their respective fields. Individuals are able to nominate themselves or can be nominated by someone else.
The Commonwealth Youth Awards for Excellence in Development Work celebrate inspiring young people whose development work has had a significant impact on people and communities in their country or region. To apply for or nominate someone for a Commonwealth Youth Award, see:thecommonwealth
The Commonwealth Youth Worker Awards celebrate the outstanding achievements Youth Workers. Youth workers make an enormous contribution to national development; engaging, developing and empowering young adults and older adolescents. They inspire and motivate young people, building their skills and confidence to succeed. The international recognition that flows from these awards allows the winners to act as champions for their profession and inspire many others who work with young people.
For more information and to nominate a youth worker, see:Commonwealth Youth Worker Awards
Published 30 July 2015