World news story
Commonwealth Day 2016 in Uganda: High Commissioner's Blog
HE Alison Blackburne reflects on this year's themes of inclusiveness and diversity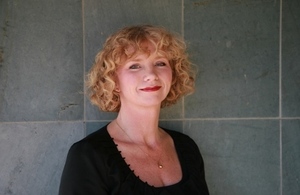 Today is Commonwealth Day, a moment when Uganda, the UK and other Commonwealth countries around the world celebrate this unique organisation. Like Uganda, the UK strongly values its membership of the Commonwealth and is committed to working with all our Commonwealth partners to strengthen the organisation's focus on promoting democratic values and development.
A diverse, inclusive Commonwealth
Commonwealth Day is an opportunity to celebrate the diverse partnership of nations that makes up the modern Commonwealth.
Inclusiveness is the theme of this year's Commonwealth Day, and this goes to the heart of the shared values set out in the Commonwealth Charter. Promoting tolerance, tackling discrimination and building inclusive governance and opportunity for all are critical to developing stronger, more secure and prosperous societies.
Diverse societies generate economic prosperity and encourage the exchange of ideas and the fusion of different cultures, drawing on the strengths of all.
On the other hand, discrimination of all kinds has economic as well as social consequences. Last week I celebrated International Women's Day at a number of events in Kampala, including with President Museveni at the national event at Kololo Airstrip. As the first female British High Commissioner to Uganda, empowerment of women and girls is an issue which is very important to me, professionally and personally. 8 March was an excellent opportunity to reflect on the economic benefits of gender equality and female empowerment. For instance, World Bank research suggests that the elimination of barriers against women working in certain sectors or occupations could increase labour productivity by as much as 25% in some countries, through better allocation of women's skills and talents. On average women earn 24 per cent less than men globally, and we need to work together to address this disparity.
The UK is committed to addressing violence against women and girls globally, including in the Commonwealth. One in three women in the world has experienced physical or sexual violence. That is a horrifying statistic. The British Government, through its Preventing Sexual Violence Initiative, is working with governments and civil society in this region to tackle impunity and eliminate the use of rape as a weapon of war.
Child, early and forced marriage also present a serious and persistent violation of the rights of young women and girls across the Commonwealth. We welcome the work of the Commonwealth Secretariat to provide technical assistance across the Commonwealth, to address violence against women and girls. The Secretariat has played an important role in supporting Commonwealth national human rights institutions in taking forward the 2015 Kigali Declaration to prevent and eliminate early and forced marriage.
A Commonwealth of shared democratic values
Women are still under-represented in the vast majority of the Commonwealth's parliaments, as well as in key leadership positions. Rwanda currently leads the way on the number of women in parliament with 63% of seats in its lower house held by women. Women represent 35% of MPs in Uganda's ninth parliament. The UK's current parliament is the most gender balanced in British history. A third of the Cabinet are women. But there is more that we all need to do.
As the British Prime Minster David Cameron has said, inclusive democracy, the rule of law and freedom speech are key to long-term economic success.
The Commonwealth Secretariat continues to work to promote more inclusive democracy, including through electoral observation missions and technical electoral assistance. Since 1980, Commonwealth missions have monitored and provided recommendations on more than 130 elections in 36 countries. Most recently the Commonwealth Secretariat deployed a mission to observe the presidential and parliamentary elections in Uganda on 18 February. The mission, led by former Nigerian President, Olusegun Obasanjo, raised some key concerns about Uganda's electoral environment. Other domestic and international observers raised similar concerns. It is vital that these are addressed.
Building on CHOGM 2016
Last year at the Commonwealth Heads of Government Meeting (CHOGM) in Malta, the leaders of Commonwealth countries committed themselves to championing the implementation of the Sustainable Development Goals. They also recognised the economic potential that can be unlocked by tackling discrimination. We believe the Commonwealth is particularly well placed to champion the peace and development goal – Goal 16 – to promote good governance, transparency and the rule of law, which underpin security, stability and growth.
At CHOGM 2015, Heads of Government also agreed to strengthen the Commonwealth's contribution to global efforts to tackle shared challenges like countering extremism and radicalisation, combating corruption, and building the resilience of small states to address issues like climate change.
At a time of unprecedented global challenges, an organisation like the Commonwealth, based on shared values, has a particularly important role to play. It is a key network to strengthen the values underpinning the rules-based international system.
We now have an opportunity to build on the positive momentum from Malta and re-energise the Commonwealth so that it can better uphold its shared democratic values and deliver greater security and prosperity to its citizens. We look forward to working with Uganda and all our Commonwealth partners to this end.
You can also see the Commonwealth Day 2016 message from Her Majesty the Queen.
Published 14 March 2016
Last updated 14 March 2016
+ show all updates
Added note and link for HM The Queen's Commonwealth Day message
First published.