News story
Committee on Radioactive Waste Management visit to Sellafield
The Committee on Radioactive Waste Management (CoRWM) visited Sellafield on the 20 June 2018.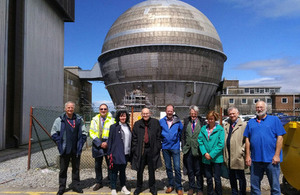 The visit gave the committee the chance to observe progress on decommissioning progress first hand. Sellafield Ltd currently manages roughly 60% of the UK's waste inventory by volume and will be a key stakeholder for any potential UK Geological Disposal Facility.
The committee received updates on Sellafield Ltd projects and organisational structure. Committee members visited the site, observing ongoing decommissioning projects such as the First-Generation Magnox Storage Ponds (FGMSP), the Windscale Advanced Gas-cooled Reactor (WAGR) boxes, and the Highly Active Liquor Evaporation and Storage (HALES).
The Committee observed significant progress in decommissioning and remediation since their last visit on 5 October 2017.
Published 23 July 2018