News story
Committee on Radioactive Waste Management visit Sellafield
The Committee on Radioactive Waste Management (CoRWM) visited Sellafield on the 5 October 2017.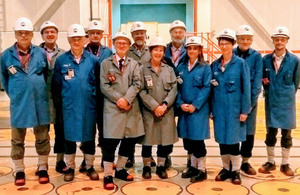 The visit gave the Committee the chance to observe progress on decommissioning progress first hand, and maintain dialogue with waste producers and managers. Sellafield currently manages roughly 60% of the UK's waste inventory by volume, and will be a key stakeholder for any potential UK Geological Disposal Facility.
The Committee received updates on the Sellafield Sites Ltd's projects, strategy, and organisational activities. Committee members also examined the site, observing ongoing decommissioning projects such as the Pile Fuel Cladding Silo; facilities for vitrification and storage of high level waste; and spent-fuel receipt and storage facilities in the Fuel Handling Plant.
The visit was a great success, with productive discussion giving members a better understanding of Sellafield Site Ltd's long term waste management strategies and the possible interactions between Sellafield and a potential UK Geological Disposal Facility.
Published 10 October 2017