News story
Commercial use of graphene: apply for business funding
Businesses can apply for a share of £2.5 million to carry out studies into applications of graphene showing greatest commercial potential.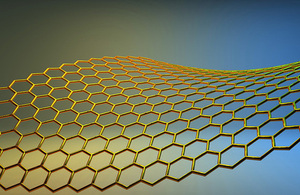 Innovate UK and the Engineering and Physical Sciences Research Council (EPSRC) are seeking to stimulate exploitation of the high-performance material graphene by investing £2.5 million in feasibility studies.
Businesses can apply for a share of the money to carry out studies into the use of graphene or other related two-dimensional carbon-based materials in specific industrial applications.
Graphene was discovered in the UK and has extraordinary properties. It is extremely thin, is one of the strongest materials known to science and has excellent electrical and thermal conductivity.
It has the potential to transform the way things are done across many industrial sectors.
The UK government is investing £50 million in developing the commercial applications of graphene to ensure that this country reaps the benefits of its excellent research.
This competition will support projects that assess the feasibility of graphene bringing two or more benefits in industrial applications including structural, electrical, optical, thermal, selective permeability, ease/speed of manufacture, ease of use, durability and flexibility.
Competition information
this competition for feasibility studies opens on 21 September 2015, and the deadline for registration is noon on 28 October 2015
projects must be led by a business and include a partner with a future route to market
we expect projects to range in size from total costs of £100,000 to £250,000 and to last 6 to 12 months
small businesses could receive up to 70% of their costs, medium-sized businesses 60%, large businesses 50%
a briefing event for potential applicants will be held in London on 23 September 2015, and consortium-building workshops will be held around the country in September and October
Published 9 September 2015