Commando Helicopter Force get to grips with new gun
Crews in the Commando Helicopter Force (CHF) have got their hands on a new and improved door gun ahead of 16 Air Assault Brigade's deployment to Afghanistan in October.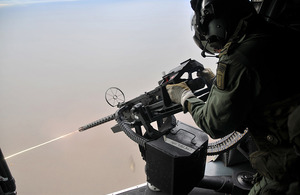 846 Naval Air Squadron began training aircrew on their new FN Herstal M3M .50-inch-calibre (12.7mm) door-mounted weapon system while supporting 16 Air Assault Brigade during their final training exercise on the Salisbury Plain Training Area in July.
The CHF have been operating their Sea King HC4 helicopters in support of Operation HERRICK since late 2007.
Today, the aircraft can now be armed with either the 7.62mm general purpose machine gun or the M3M, the latter only having recently been fully cleared for operational duties with the CHF.
This now provides the Sea King HC4 with a defensive and offensive capability, helping to increase their operational versatility and allowing the CHF to undertake a wider range of support missions.
Lieutenant Commander Nigel Gates, Aviation Warfare Officer at CHF Command, explained the benefits of the new weapon:
The M3M is able to put down a higher rate of fire than the general purpose machine gun [GPMG], and, being .50-calibre instead of 7.62 [mm], each round obviously has greater effect.
The rounds have much greater energy so not only do they travel further but their flight path is affected much less by gravity; this means the gunner can lay down rounds accurately from a safe range or altitude.

The Sea King is a good stable platform for the weapon and we are confident this will give us significant extra capability in support of ground units.
The M3M is fitted into the Sea King using a specially adapted base plate which allows the weapon to be stowed and the cabin door to be closed when not in use. A specially mounted canister holding 600 rounds is attached to the side of the cabin just aft of the main door.
The CHF have their own Royal Marine Air Door Gunner Instructors on both the GPMG and M3M.
Aircrew undertake ground instruction followed by day and night shoots to become qualified on both weapon systems. These shoots cover a range of operational profiles depending on the mission. Aircrew learn to operate both the M3M and GPMG using night-vision goggles.
The M3M is in use with a number of other air arms including the Royal Navy Lynx HMA8 and the Army Air Corps AgustaWestland Lynx Mk9A, which have recently been deployed to Afghanistan.
Published 25 August 2010