News story
Command and Control Symposium
Members of the military and research community are invited to a Command and Control Symposium.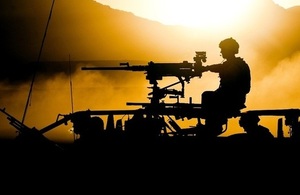 The Defence Science and Technology Laboratory (Dstl) is hosting a Command and Control (C2) Symposium on 24 March 2015.
This is the first in a series of events being held to define a roadmap for future C2 research.
The event, at Tidworth Garrison Theatre, will bring together world renowned C2 experts and high profile keynote speakers, giving attendees deep insights into the challenges ahead.
The symposium will be based around four themes: C2 concepts, cognition, automation and information.
With future operations likely to be more complex and uncertain in nature, there will be an increased degree of sophistication required of C2. The Symposium aims to raise awareness of current and likely future issues with C2, re-invigorate and create a sustainable C2 community to address the issues, and identify and obtain agreement on the primary challenges to be overcome.
A keynote speech will be delivered by Director General Joint Force Development, Vice Admiral Duncan Potts. Other speakers include Lt Gen Sir David Capewell, Former Chief of Joint Operations; Dr David S. Alberts, Senior Fellow Institute for Defence Analyses; Dr Gary Klein, Senior Scientist at MacroCognition LLC; Prof David Woods, Professor of Integrated Systems Engineering at Ohio State University; Prof Helen Margetts, Professor of Society and the Internet, University of Oxford; and Dr Chris Gibson, Senior Principal at Dstl.
This event is free and open to anyone from the military or research community to attend. Registration is required by 9 March 2015 using password: C2Tidworth.
For further information, email C2symposium@diemconsulting.co.uk
Published 11 February 2015