Comic Relief: Government gives back VAT on charity CD
As this year's Red Nose Day music video is revealed, the Government has announced it will give Comic Relief a grant equivalent to whatever VAT is paid on the sales of the CD single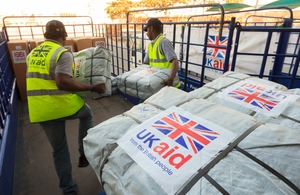 The One Direction single - a mash up of Blondie and The Undertones 1978 hits - will be available to download from iTunes from today, with the CD on sale in from Monday 18 February.
In recognition of the special place held for Comic Relief in the British public's affections and its outstanding work in tackling poverty around the world, the Government has confirmed that it will cover the cost of all VAT on sales of the single from the overseas development budget.
That means the government is effectively 'giving back' the VAT to Comic Relief, so everyone who is buying the single can be confident that every penny they spend will go towards the good causes that Comic Relief supports.
International Development Secretary Justine Greening said:
In the 25 years since the first Red Nose Day, the public support has been amazing and I am delighted that the Government will give back the VAT costs on this year's single. When you buy this song, your money will change lives in the UK and around the developing world.
Kevin Cahill, CEO Comic Relief said
I'm absolutely delighted that the Government is going to grant the VAT on the sale of One Way Or Another back to Comic Relief. It means that as much money as possible will go to the people who need it most and will add to the success of this year's Red Nose Day campaign.
The Prime Minister welcomed One Direction to Downing Street to film part of the official Red Nose Day music video at the end of last year and has a short cameo role in the video.
Published 17 February 2013