Combating illegal fishing in the Southern Ocean
Foreign Office Minister Henry Bellingham has welcomed the UK's role in helping African coastal states build capacity to fight illegal fishing.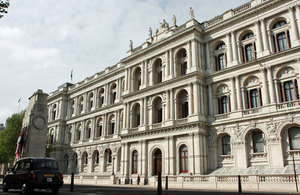 The UK jointly convened and co-chaired a workshop in Cape Town, South Africa from 24 to 27 July, aimed at developing regional capacity to combat illegal fishing in Southern Ocean waters.
The workshop, which was attended by representatives from 16 coastal African States as well as regional organisations, identified a range of practical controls that states could put in place within their ports to reduce illegal fishing activity. This was the second such workshop the UK has been involved in, and builds upon the progress that followed the first workshop, held in August 2010.
The workshop was jointly chaired by the FCO's Polar Regions Unit and the South African Department of Agriculture, Forestry and Fisheries, and was held under the auspices of CCAMLR (Commission for the Conservation of the Antarctic Marine Living Resources) and NEPAD (the African Union's New Partnership for Africa's Development). The event was supported by the UK, South Africa and Australia, and featured a wide range of experts and guest speakers, including the UN Food and Agriculture Organisation. Like the 2010 conference, this event was primarily funded by CCAMLR, using proceeds the UK had donated from the sale of fish confiscated from an illegal vessel operating in the waters of the UK Overseas Territory of South Georgia & the South Sandwich Islands.
On hearing of the successful conclusion of the workshop, Foreign Office Minister Henry Bellingham said:
"I'm delighted that the UK has been able to contribute to this important work. Illegal fishing is a major global problem: estimates suggest that in some areas illegal fishing accounts for up to 40% of all fish landed, and that the illegal fishing industry is worth up to £15billion annually. This problem can only be tackled by the international community working together. Initiatives such as this workshop play a vital role in facilitating the commitment and collaboration that are needed for an improved deterrence of illegal fishing."
Participants in the workshop included representatives from: Benin, Cameroon, Comoros, Cote d'Ivoire, Gabon, Ghana, Kenya, Liberia, Mauritius, Mozambique, Namibia, Sao Tome & Principe, Sierra Leone, South Africa, Tanzania and Togo.
Read about the previous workshop, held in 2010.
Search the news archive
Published 31 July 2012