World news story
Colombo celebrates HM The Queen's 90th Birthday
The British High Commission in Colombo celebrated Her Majesty Queen Elizabeth II's 90th Birthday on 16th June 2016 at Westminster House.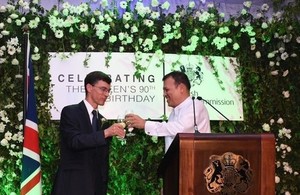 Parliamentarians, businessmen, religious leaders and representatives of the international community and civil society attended the event.
Guests at the reception celebrated the birth of Her Majesty The Queen, the longest reigning monarch in British history. The 400th anniversary of the death of Britain's most famous playwright William Shakespeare was also marked with a performance by The Workshop Players of excerpts from "A Midsummer Night's Dream" on the lawn of the High Commissioner's Residence.
Addressing guests the British High Commissioner to Sri Lanka, James Dauris, said:
"Her Majesty the Queen and William Shakespeare are thought of with admiration and affection around the world, especially in countries that are members of the Commonwealth. It is a pleasure for me and my colleagues in the British High Commission to celebrate Her Majesty's 90th birthday and Shakespeare's extraordinary legacy with so many friends this evening.
"One of our highest priorities in the High Commission has been and will continue to be the work we are doing with the government, Parliament, government agencies, the armed forces, the police, journalists, civil society organisations and many others to help them in the work they are doing to strengthen democratic values and institutions, and facilitate reconciliation, including through truth and accountability.
"We are proud of the support we are giving. Some of this is direct – for example the demining work we support in the north, work we are doing with the police on training and community policing, expertise we have been sharing with the agencies leading the fight against corruption. And much of the support we are giving – some $50 million a year – is indirect, through partner organisations we help to finance.
"We congratulate the government and all those who have had a part in achieving all that has been achieved over the past year. We know how much more needs to be done. We know that getting this right and winning nationwide public support and maintaining confidence will need sustained and determined leadership. We will continue to give our support."
The High Commissioner also thanked the sponsors of the evening: HSBC, Millennium IT, De La Rue and Finlays. He commented that these four companies' stories of successful investment in Sri Lanka illustrate the traditional and the modern in the business Sri Lanka and the United Kingdom are doing together.
See the photos of the event here