News story
Collision near Logan
Investigation into a collision between freight trains in a work site near Logan, East Ayrshire, 1 August 2015.
This news article was withdrawn on
This item has been moved to the National Archives as RAIB has published its report describing this accident. See Report 13/2016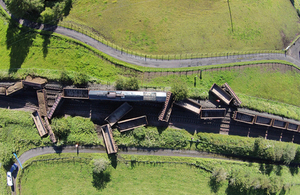 One of the engineering freight trains, reporting number 6K07, was the 09:17 hrs from Carlisle Yard to New Cumnock. It consisted of a class 66 diesel-electric locomotive hauling 36 two-axle box wagons (types MHA and MTA); the leading four wagons were empty and the remainder were loaded with either sand or ballast. At New Cumnock, this train entered into an engineering work site and was authorised to travel along the Down Main line and then to stand behind another engineering freight train. This train, reporting number 6K06, was the 07:03 hrs from Carlisle Yard to New Cumnock and was already stationary within the work site about 3 miles (4.8 km) away. While travelling within the work site and rounding a right-hand curve, train 6K07 ran into the rear of stationary train 6K06 at 28 mph (45 km/h).
There were no injuries but the locomotive and seven wagons from train 6K07 and eleven wagons from train 6K06 were derailed; the locomotive and some wagons were severely damaged. One wagon came to rest across a minor roadway. There was also substantial damage to the track on both railway lines.
Our investigation will examine the sequence of events leading up to, and during, the collision. It will also examine how train movements within engineering work sites and possessions are controlled, what work has taken place to implement previous RAIB recommendations that are applicable and any relevant management issues.
Our initial findings indicate the issues relevant to this collision at Logan are very similar to those identified by previous RAIB investigations, most recently at Arley report 12/2013 and Kitchen Hill, near Penrith bulletin 01/2014. Following this latest collision, we have issued an Urgent Safety Advice to the rail industry about the control of risks associated with the movement of trains within engineering work sites.
Our investigation is independent of any investigation by the railway industry or the Office of Rail and Road (ORR).
We will publish our findings, including safety learning points at the conclusion of our investigation; this will be available on our website.
You can subscribe to automated emails notifying you when we publish our reports or bulletins.
Published 14 August 2015